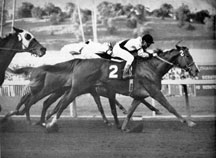 Biggs
(1960-1992, Inducted 2010)
Starts: 72; Record: 18-17-7; Earnings: $305,797
Breeder: Sue Swenson
Owner: E. F. Gould
Trainers: Leonard Dorfman and Farrell Jones
Biggs was one of three Washington-breds to win the $100,000 Californian Stakes in the 1960s. Campaigned prior to when graded stakes classifications were implemented, the son of *Domingo—Blessed Art, by Artillery, would have won the equivalent of five graded stakes and placed in nine others which have graded status today, more than any other Washington-bred runner in history.
Bred by Sue Swenson, Biggs was named after an Oregon whistle-stop located along the Columbia River. He was unraced at two and ran for as low as $2,500 in his first season of racing. California trainer Leonard Dorfman watched him for several races before persuading his client E. F. Gould, a cement contractor from Riverside, California, to take the plunge and on October 22, 1963, the chestnut gelding was haltered for $7,500. Dorfman out shook Ron McAnally for the claim. It was the second time Biggs had been claimed, as C. L. Utltey had taken him for $3,500 just the previous month while the gelding was running for Mr. and Mrs. R. J. Swenson.
Dorfman took Biggs to Santa Anita where in spite of being nervous in his stall, he showed some improvement, but soon popped a curb and was out of commission until late 1964. Biggs made his first stakes appearance as a four-year-old in the Carmel Handicap, in which he finished second. In his next start, in late November, he won the $15,000 Bay Meadows Handicap by a half-length.
On January 1, 1965, Biggs, who became a fan favorite with his late-running rallies, took the nine-panel San Gabriel Handicap by a half-length. Unfortunately, soon afterwards he suffered a hairline fracture of a sesamoid. Sent to Farrell Jones' J-S Ranch for daily whirlpool treatments, he returned to competition in Jones's stable.
Though he wouldn't win a stakes in 1966, Biggs finished second or third in four, including the runner-up spot in the Del Mar Handicap.
Biggs' best year came at age seven, when after finishing second in the Arcadia, San Bernardino and San Juan Capistrano handicaps, he took the prestigious Californian Stakes by three-quarters of a length. In the beaten field of 14 were Pretense, *Aureilus II, Fleet Host and Native Diver. Biggs earned $74,200 for his efforts in the 1 1/16-mile race.
At eight, Biggs became the leading money-winning Washington-bred of all-time after defeating French Fox by a nose in the February San Marcos Handicap. A month later Biggs won the 12-furlong San Luis Rey Handicap by a nose over *Tobin Bronze.
Biggs would run five times at nine, including a third place finish in the San Gabriel Handicap. His final outing was in the Santa Anita Handicap, where he finished 11th of 16 in a race won by Nodouble. He was then retired to Gould's 10-acre farm and his own special "Biggs paddock" with a record of 18-17-7 from 72 starts and earnings of $305,797.
Click here for expanded profile.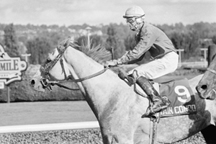 Captain Condo
(1982-1996, Inducted 2003)
Starts: 70; Record: 30-16-7; Earnings: $511,695
Owners: Vaden & Fern Ashby
Breeder and Trainer: Vaden Ashby
Regarded as the most popular horse to ever run at Longacres Park, the gray legend enjoyed his best year in 1991 at the age of nine, winning five stakes races in seven starts and earning horse of the meeting and Washington-bred horse of the year honors. Captain Condo shares the Longacres record of 12 career stakes wins with Firesweeper. He also placed in nine other Longacres stakes races, including a second place finish to Louis Cyphre (Fr) in the 1991 Longacres Mile and a third place finish in the previous year's Mile. The son of Captain Courageous—Condoe Mia, by Top Conference, ranks fifth on the all-time Washington-bred money earners list with $511,695. He won 30 races from 70 career starts and lit the board in 53 of those starts. Captain Condo won 16 stakes races including the Washington Championship three straight years (1989-91). The gray superstar was bred, raced and trained by Vaden Ashby and his wife Fern throughout his long career. Click here for expanded profile.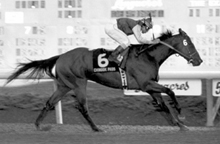 Chinook Pass
(1979-2010, Inducted 2003)
Starts: 25; Record: 16-4-1; Earnings: $480,073
Breeder and Owner: Ed Purvis (Hi-Yu Stables)
Trainers: Laurie Anderson & Bud Klokstad
Chinook Pass was one of the fastest Thoroughbreds in history and the only Washington-bred to ever earn an Eclipse Award. He was voted the nation's top sprinter in 1983, the same year he won the Longacres Mile by a record-tying six lengths. The son of Native Born—Yu Turn, by *Turn-to, who was bred and raced by Ed Purvis' Hi-Yu Stables, held the world's record of :55 1/5 for 5 furlongs, which was set at Longacres on September 17, 1982. He also equaled the five furlong mark at Hollywood Park and six furlong record at Santa Anita that season. His career totals show 16 wins from 25 starts with five more in the money finishes. He won 11 stakes and earned $480, 073, which places him sixth on the all-time Washington-bred money earner's list. Click here for expanded profile.
We also invite you to read
"Lightning in a Bottle: The Story of Chinook Pass,"
by John Loftus
Chapter 1
Chapter 2
Chapter 3
and
"Honoring Chinook Pass on His 30th Birthday,"
"Legends Reunited: Chinook Pass and Laffit Pincay Jr."
and
Oldest Living Eclipse Award Winner Turns 31
by John Loftus
as well as
Mr. Pass Goes to the Fair, by Monica Bretherton

All rights reserved. May not be reprinted without written permission
from the author or Washington Thoroughbred magazine.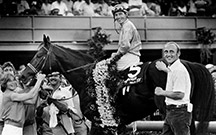 Chum Salmon
(
1980-2005, Inducted 2014

)

Starts: 29; Record: 13-4-5; Earnings: $388,1958
Breeders: Hidden Valley Thoroughbreds & Gary Wiggins
Owners: Chum Salmon Stable
Trainers: Larry & Sharon Ross

The Daily Racing Form charts for 1985 Longacres Mile (G2) hero Chum Salmon reveal a runner whose style was "unhurried early" or liked to "drop back at the beginning." In other words, he loved to saunter at the back of the pack so he could give his followers heart palpitations on his way to the finish wire.
Bred in Washington in 1980 by Gary Wiggins and Larry Dick's Hidden Valley Thoroughbreds, Chum Salmon was sired by Gaelic Dancer, a stakes-winning son of Native Dancer and successful California stallion, and was the 11th foal out of (Churchill Downs) Oaks Prep winner Saree, who had already produced two-time Grade 3-winning filly Saree Green.
The future state champion went through the WTBOA sales ring twice, first as a yearling and then the following year he was purchased for $8,000 by Gerry Schneider.
Chum Salmon would spend his entire career, and most of his long life, under the care of trainers Larry and Sharon Ross, who were just starting to make a name for themselves on the Washington racing circuit.
Unraced at two, Chum Salmon made his debut at Longacres for the Chum Salmon Stable of homebuilder Schneider, mortgage banker Randall Weber and Harold Hilgemann, who worked for Lockheed Shipbuilders. After breaking his maiden in August, he ran second in the B. Marcus Priteca Handicap.
At four, "The Chummer" won the Portland Meadows Mile over four Oregon-bred $100,000 earners. Journeying to Longacres, the talented gelding reeled off three consecutive wins, including firsts in the Memorial Day and Space Needle handicaps. After finishing third in the Independence Day Handicap, he won the British Columbia Handicap. Next came a fifth in the 1984 Mile to Canadian Horse of the Year Travelling Victor. Chum Salmon finished the season with a third in the Seattle Handicap and a fourth in the $100,000 Grade 3 Native Diver Handicap won by Lord At War (Arg).
With a year-end record of 6-0-2 from ten starts and earnings of $92,680, Chum Salmon was voted Washington champion handicap horse.
He earned his first victory at five in an allowance at Golden Gate Fields and then ran third in the Berkeley and Silky Sullivan handicaps. Chum Salmon also ran second in the 1985 Portland Meadows Mile.
Returning to Longacres, he won five of his final six races – all stakes, beginning with his tally in the Memorial Day Handicap – and finished runner-up in the other. In the Space Needle Handicap Chum Salmon ran his fastest (1:35 flat) mile and then came back to take the 1 1/16-mile Independence Day Handicap. Shrapnel ended The Chummer's winning streak in the British Columbia Handicap in their final prep for the 50th anniversary running of the then Grade 2 Longacres Mile.
The August 25, 1985, race drew nine. Chum Salmon, with future Washington Racing Hall of Fame rider Gary Baze aboard, went off at a generous $8.60-to-one. After loping along in last place for the first half-mile, Chum Salmon made a thrilling charge to overhaul the pacesetter Dear Rick by 1 1/2 lengths. The final time of 1:34 1/5 was only two ticks off the track record.
Longacres 1985 horse of the meet then "put a cherry on top" by defeating Zulu Whiz by 2 1/2 lengths in the nine-furlong Seattle Handicap.
The classy gelding finished his career with a record of 13-4-5 from 29 starts and a14.79 SSI. His $388,195 earnings placed him third on the leading Washington-bred earners list. On the 1985 Daily Racing Form Free Handicap for four-year-olds and up male runners (1 1/8 miles), he was assigned 115 pounds.
The Chummer was awarded his second Washington champion handicap title, but lost out on Horse of the Year honors to the brilliant two-year-old Hilco Scamper, who was a 2012 Hall of Fame inductee.
Chum Salmon was retired to the Rosses farm in Auburn where he lived out his days as a member of their "gaslight gang" before passing away just before Christmas 2005 at age 25.

Hilco Scamper
(1983-1990, Inducted 2012)
Starts: 34; Record: 14-10-0; Earnings: $514,238
Breeders: John & Mary Roche
Owners: George Cross, Larry Wright, John & Mary Roche
Trainer: Mike Chambers
A two-time Grade 2 winner at two, Hilco Scamper was voted Washington horse of the year and champion two-year-old after winning five of his six starts as a juvenile. He would later add a third state title as the state's top sprinter of 1987.
Bred and raised by Yakima fruit distributor John Roche and his wife Mary and foaled in 1983, the gelded son of Knights Choice—Lucky Sport, by *Snow Sporting – who was named after a Norwegian freighter – made his winning debut at Longacres on May 18 for the Roches and their fellow Yakima-based partners George Cross and Larry Wright. Not only did he win that outing by a commanding 15 lengths, his :56 4/5 clocking in the five-furlong race was the fastest time ever recorded by a two-year-old at the Renton oval. Sent to Golden Gate Fields for the Tanforan Kindergarten Stakes, he took that 5 1/2-furlong race by six lengths and set a new stakes record of 1:03 flat. He was then off to Hollywood Park where he won the 5 1/2-furlong Desert Wine Stakes by 4 1/2 lengths and established a new track record of 1:02 4/5. The speedy gelding then added a 7 1/2-length tally in the $100,000 Hollywood Juvenile Championship Stakes (G2).
Sent east to Monmouth Park for the $200,000 Sapling Stakes, Hilco went gate to wire to score a three-length victory in the Grade 2 stakes. His final start of the year came in Saratoga's Hopeful Stakes (G1), where a muddy track may have contributed to his seventh place finish. Hilco came out of the race with tendon issues and was sent home for some well-deserved "R & R" with year-end earnings of $229,055. He was ranked at 120 pounds on the national Experimental Free Handicap, six pounds off co-leaders Ogygian and Tasso, and he topped the Washington Free Handicap at 125 pounds.
After nearly dying from a bacterial infection in his hind end, Hilco didn't make his return to the races until December 26, 1986, when he finished seventh, nine lengths behind Kentucky Derby (G1) winner Ferdinand, in the Malibu Stakes (G2). It would take five more tries before he once again made it to the winner's circle. After finishing second to fellow speedster Zulu Whiz in the Renton Handicap, the fan favorite romped home by five lengths in the Speed Handicap. Hilco's sixth stakes win would come in the Grade 3 National Sprint Championship and he ended the year with a second behind High Brite in the $100,000 Palos Verdes Stakes.
After being unplaced in one start at five, Hilco spent his 1989 season racing against Quarter Horses at Los Alamitos and Remington Park, and he did so quite successfully, winning five shortened stakes and earning just shy of $120,000.
Returned to Longacres in 1990, the speedy bay won a speed-laden Doo-Dah Express Stakes by two lengths in what would be his final win. After finishing last in the Speed Handicap, Hilco returned to Quarter Horse races in Southern California where he was second in three of his four starts. His final race came in the Call Caleb Stakes at Fairplex Park, where after finishing second, he collapsed and died of a ruptured aorta.
Trained by Mike Chambers throughout his exceptional career, Hilco Scamper won 14 races and finished second ten times in 34 starts and earned $514,238, of which $382,205 was earned in Thoroughbred races. He was also the Pacific Coast Quarter Horse Racing Association's champion distance horse in 1989. Click here for expanded profile.
Military Hawk
(1987-2012, Inducted 2013)
Starts: 86; Record: 18-15-19; Earnings: $686,128
Breeders & Owners: G & N Thoroughbreds (George & Norma Sedlock)
Trainers: Larry & Sharon Ross
Military Hawk harkened back to the iron horses of earlier decades. Foaled in 1987, the chestnut gelding out of the unraced Flying Lark mare S. S. Hawk made 86 starts over nine years and won or placed in 37 stakes while racing at Yakima Meadows, Playfair, Longacres, Exhibition Park (and later the renamed Hastings Racecourse), Golden Gate Fields, Pleasanton, Sacramento, Santa Rosa, Solano, Bay Meadows and Bay Meadows Fair and finally Emerald Downs for breeders/owners George and Norma Sedlock's G & N Thoroughbreds and the husband and wife trainer team of Larry and Sharon Ross.
From the first small crop of the Sedlock-raced 1983 Washington champion two-year-old Colonel Stevens, a $145,286-earning son of Lt. Stevens, Military Hawk made his racing debut as a two-year-old on July 26, 1989, at Longacres, but it wasn't until his third start, on August 30, that he entered the winner's circle after annexing a $16,000 maiden claiming race. He wheeled back to take a $25,000 claiming race on September 9 before making his stakes debut in the Gottstein Futurity, where he finished sixth behind winner T. D. Passer. Sent to Playfair, Military Hawk won the Juvenile Mile His Handicap by 6 1/2 lengths. After finishing a disappointing fourth to Go See Sam in the Spokane Futurity, Military Hawk finished his juvenile campaign with a 1 1/2-length win in the $61,680 Yakima WTBA/Rainier Fall Futurity, which was the richest race ever run at Yakima Meadows. Military Hawk was assigned second high weight on the Washington Two-year-old Experimental Free Handicap, two pounds behind champion T.D. Passer's 121.
At three, the Sedlock colorbearer placed in three Longacres stakes, including a second to future two-time graded stakes winner and $915,952 earner Sports View in the Longacres Derby, before venturing north to British Columbia to win a hard-fought victory in the Inlet Handicap.
Military Hawk's four-year-old campaign began at Golden Gate, but he didn't return to his winning ways until his return to Longacres where he took both the Renton and Seattle handicaps and contested his first of three Longacres Miles (G3), where he ran fourth.
At five, the busy runner won both the Gary Baze Tribute Stakes and Washington Championship Handicap. He also placed in six other stakes, including a second in the British Columbia Premier's Championship Handicap (G1-Can), adding a career-high $141,761 to his burgeoning totals, and was named Washington's champion handicap horse.
At six, in 1993, all five of his stakes placements came around Northern California ovals and included a win in the Pass the Glass Handicap, in which he defeated future millionaire Slew of Damascus, at Golden Gate. In fact, the talented gelding would also spend all of his 1994 and 1995 seasons plying the Bay Area tracks, where he would win four stakes (three in a row) and place in seven others, including a third in the Grade 3 William P. Kyne Handicap.
At nine, the well-conditioned gelding returned to Washington for the opening of Emerald Downs to run third in the Washington Championship and add his second fourth-place finish in the Mile. While up north, he traveled to Hastings once more and ran third in the BC Premier's Championship Handicap.
In 1997, the gallant chestnut ran eight more times, winning twice and ending his illustrious career with a popular victory, ridden by Gary Stevens, at Emerald Downs in a $32,000 claiming race on August 17. He was then retired to the Ross's Sunfall Farm in Auburn, where he spent his retirement years grazing with his former Sedlock stablemates Marketal and Erin's Lord. At the time of his retirement, with a record of 18-15-19 and earnings of $686,128, he ranked second on the all-time Washington-bred earners list, behind only Saratoga Passage's record $800,212.
Two months after George Sedlock's passing, Military Hawk, 25, succumbed to colic in December 2012.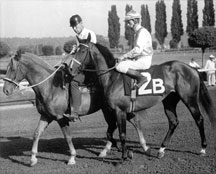 Pataha Prince
(1965-1997, Inducted 2011)
Starts: 84; Record: 27-16-9; Earnings: $249,523
Breeder: Arden Archer Jr.
Owner: Arden Archer Jr. and Marion R. Frankel
Trainers: Jim Penney and Robert Frankel
Foaled in 1965, Pataha (Nez Perce for brush, as in Pataha [Brush] Creek) Prince was bred by an up and coming young lawyer named Arden Archer Jr. and raised in wheat-covered fields near Dayton. Archer would later serve as assistant to Secretary of State Lu Kramer before his premature death at age 38 in 1972.
A son of seven-time leading Washington sire Strong Ruler, Pataha Prince was the third foal out of 13-race winner Miss Jeff, a daughter of Two and Twenty.
After winning his first two races for Archer, the Jim Penney-trained runner made his stakes debut in the Drumheller Memorial, a race he won by four lengths. Next up for the colt was the $35,600 Washington Futurity, which was the richest race of its time for the entire Pacific Northwest. Pataha Prince continued his win streak with a 1 1/2-length victory in the 6 1/2-furlong stakes and his $34,125 earnings set a single season juvenile record at Longacres.
The Washington Horse would later report "Pataha Prince has shown tremendous ability and an unusual burst of speed."
After his first loss, a seventh place finish in the Burlingame Stakes at Bay Meadows, Pataha Prince returned to his winning ways with back-to-back tallies, led by a gate-to-wire victory in the $37,700 Sunland Park Thoroughbred Futurity on New Year's Eve. For his six-in-seven record he earned $53,575 and the 125 pound highweight on the Washington Free Handicap. It was later announced that Pataha Prince would be pointed for the Santa Anita Derby.
Winless at three, Pataha Prince did finish second in the San Miguel Stakes and ran third in the Golden Bear Stakes. He would win four of 14 starts at four, including a nose victory in the Joshua Green Handicap, as well as races at Santa Anita.
Though he wouldn't add any stakes placements to his credit at five, he did become the ninth Washington-bred to go over the $100,000 mark after he won a $50,000 claiming race at Santa Anita on February 18. He managed to win one race out of 16 starts at six, and finish third in the Longacres' Memorial Day Handicap.
Unraced at seven, the once prince was running for an $8,000 tag as his eight-year-old season rolled around. After changing hands twice through the claim box, California newcomer Bobby Frankel haltered him for $16,000 on June 23 for client Marion R. Frankel (no relation). Seven weeks after being claimed, Frankel had his new charge primed for the six-furlong $20,000 Bing Crosby Handicap at Del Mar, a race which Pataha Prince won in only one tick off the 1:07 4/5 track record. In doing so, Pataha Prince became the first of three Washington-bred horses of the year (Chinook Pass in 1983 and Pure as Gold in 2006) to win the now Grade 1 sprint. Two weeks later, Pataha Prince was back at his old stomping grounds, Longacres, where he ran second by a neck to Silver Mallet, who was ironically trained by future Hall of Famer Penney in the first of his record five Mile wins. Later that fall Pataha Prince would win the Governor's Cup Handicap at Pomona and finish the year with earnings of $90,528. For his efforts, the gallant gelding was named Washington horse of the year and top handicap horse
At nine, Pataha Prince managed one more stakes placement, a second in the $25,000 Las Cienegas Handicap.
Trainer Frankel was later asked to name his favorite claimers and rattled off the names of Washington-bred Pataha Prince and Oregon-bred Strong Award among the seven mentioned. Frankel's fondness for the hard-hitting geldings was later repeated in the National Racing Hall of Fame and five-time Eclipse Award winner's obituary in 2009.
At the end of his career, Pataha Prince was the third leading Washington-bred earner of all-time ($249,523) after racing eight years with 84 starts and a record of 27-16-9. Penney and Frankel later teamed to help arrange for the stalwart bay to return to the Archer family farm to spend his retirement days and, being the tough gelding that he was, he lived until the ripe old age of 32.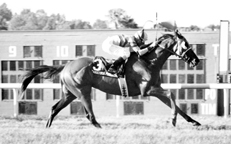 Saratoga Passage
(1985-2008, Inducted 2004)
Starts: 22; Record: 6-3-5; Earnings: $800,212
Breeders: Mel and Helen Beck
Owner: Saratoga I Stable
Trainers: Robert Leonard and Robert Frankel
Despite being plagued by injuries throughout his career, Saratoga Passage still managed to become the all time leading Washington-bred money winner with $800,212. He began his career at Longacres, winning the 1987 Tukwila Stakes and Gottstein Futurity. Saratoga Passage's biggest win that year came later in the fall at Santa Anita's Oak Tree meet when he annexed the prestigious Norfolk Futurity-G1. The son of Pirateer—Loridown, by Barrydown, only made one start at age three, but came back the following year better than ever as evidenced by his score in the Eddie Read Handicap-G1 over the Del Mar turf course. To this day, he stands alone as the only Washington-bred ever to capture two grade one events. Additionally, he also finished third in back-to-back runnings of the Oak Tree Invitational Handicap-G1 (1989-90) and placed in both the Del Mar Invitational Handicap-G2 and the San Bernardino Handicap-G2 during the 1989 season. Bred by Melvin and Helen Beck of Oak Harbor and campaigned in the colors of Saratoga I Stable, Saratoga Passage sported a ledger of 22-6-3-5 and he won or placed in 10 stakes. Saratoga Passage, who was trained first by Bob Leonard and later by Robert Frankel, was also voted Washington champion in four categories, including twice being honored as Washington horse of the year during his illustrious career. "Sam," as the now 19-year-old chestnut gelding is fondly called, currently resides with Jane and Eric Hiner of Olympia. With Jane aboard, the versatile champion has successfully competed in dressage events. Click here for expanded profile.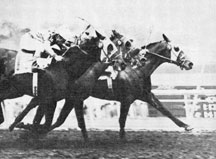 Sir William
(1954-19__, Inducted 2006)
Starts: 17; Record: 4-3-1; Earnings: $131,335
Breeders and Owners: Mr. & Mrs. Herb Armstrong
Trainer: Cecil Jolly
Foaled in 1954 at Herb and Louella Armstrong's Valley Farm in Harrington, Sir William earned Washington's first "grade one" stakes victory when he won the 1957 Santa Anita Derby over future horse of the year Round Table. The son of Rover—Jodot, by Peace Chance, was the first Washington-bred to ever rank on the national Experimental Free Handicap and also the first to earn a victory in a $100,000 stakes.
Stakes-placed at two, the Cecil Jolley trainee made only seven starts at three, but all came between January 5 and March 22. All of Sir Williams' 17 lifetime starts were in California while racing for his breeders – who never saw him race!
Sir William started his sophomore season with a close victory in the six furlong Los Feliz Stakes at Santa Anita. He next ran fourth in the six panel San Miguel Stakes, which was followed by a fifth place in the seven furlong San Vicente Handicap at the same track. He next ran fourth in a 1 1/16 miles allowance test. On February 16, the Kentucky Derby-nominated Sir William finished second by less than a length to Joe Price in the San Felipe Handicap, also at 1 1 1/16 miles.
The 20th running of the Santa Anita Derby was run over a slow track. All 13 of the runners carried 118 pounds, with Round Table part of a favored four-horse entry. With Henry Moreno (who had been aboard Dark Star when he upset the previously unbeaten Native Dancer in the 1953 Kentucky Derby) in the irons, Sir William lay in wait for the first half-mile and then "sustained a hard drive" to defeat Swirling Abbey by a head with Round Table only a nose back in third in the blanket finish. Final time on the drying out track was 1:54 1/5. His $95,500 winner's share contributed greatly to Sir William's $131,335 de-throning of Hank H. as Washington's leading earner of all-time.
Sir William then headed north to Bay Meadows where he unfortunately broke a sesamoid in his left front foot in five places during a six furlong allowance race.
Sir William retired to stud the following year at the Curragh Stock Farm in Canoga Park, CA, where he sired three stakes winners. Click here for expanded profile.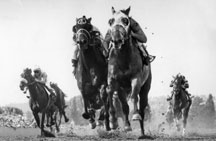 Sparrow Castle
(1957-19__, Inducted 2009)
Starts: 47; Record: 13-4-7; Earnings: $98,015
Breeders and Owners: David & Lillian Brazier
Trainer: Glen Williams
Foaled in 1957, Sparrow Castle was bred and raced by David and Lillian Brazier and trained through his championship seasons by 2008 Washington Racing Hall of Fame inductee Glen Williams. From the first crop of the War Admiral sire Cold Command, Sparrow Castle was one of two stakes winners produced out of Watch the Snow, the other being 1966 Playfair Mile winner Sixpenny Lane.
Sparrow Castle would race for five years, make 47 starts and win 13 of those races. Though his $98,015 earnings may seem paltry by today's standards, he earned a 5.95 standard starts index and was twice voted Washington horse of the year.
Sparrow Castle began his career as a juvenile at Turf Paradise, where he won the second of his four starts that year. The then Wayne Branch trainee went gate-to-wire to take a five-furlong $5,000 maiden claiming race by 5 1/2 lengths on May 1 under Paul Frey.
Sent to Bay Meadows' Tanforan meet at three, the now Glen Williams-trained Sparrow Castle began his second season with a three-quarter length win in a six-furlong allowance. Sparrow Castle earned his first stakes placement at Longacres on May 27 when he finished second to Joe Fabio in the second division of the William Boeing Stakes. He came back a week later to finish second to the top older mare Ro-Fran in the Rhododendron Handicap. Sparrow Castle next reeled off victories in the Tacoma Handicap, Spokane Handicap (by five) and Longacres Derby, all with Frey in the saddle, to take the local version of the Triple Crown. He ended his season by finishing third in the then traditional meet ending Seattle Handicap won by 1960 Longacres Mile winner Doctrinaire. Sparrow Castle was later lauded as the best three-year-old in the state and earned his first horse of the year title.
In recalling his four-year-old season it was stated that Sparrow Castle's "victories came by dogged determination and courage as he gave his all at the finish..." And what a year it was, as he became the first runner in state history to capture six stakes at Longacres in one season, including three in the month of July – equaling the 6 1/2-furlong track record in the Governor's Handicap – and a hard-fought victory over fellow state champion Dusky Damion in the 26th Longacres Mile. Sparrow Castle ended his season at the Renton track with a 2 1/2-length victory in the first running of the Pacific Coast Maturity, setting a new track record in the10-furlong race for four-year-old runners bred in Washington, Oregon, California, British Columbia or Alberta. The champion was ridden to victory in his first four stakes by Jimmy Craswell, but after Craswell broke his leg, just five days before the Mile, Jack Leonard flew in from points east to successfully guide the colt in his final two stakes. Sparrow Castle shipped to Bay Meadows for a fall campaign but rapped an ankle in a workout, which ended his third season of racing. He was the shoo-in for 1961 horse of the year honors.
Sparrow Castle later earned one victory and one stakes-placement, a third in the El Camino Handicap, at five. He was unraced at six and finished his career with one win in his two starts at seven.
Sparrow Castle will be remembered as the first horse to win nine stakes at Longacres, a mark that stood until Firesweeper broke that record in 1987.
Sparrow Castle retired to stud in 1965 at Williams' Pineridge Farm in Spokane for a $100 fee. In seven crops, he sired only 28 foals. Among his 12 winners was lone stakes winner Reminiscent and one stakes-placed runner, Yes Father. A tag line in his first ad reads: "More heart and courage – no other horse has had."
Click here for expanded profile.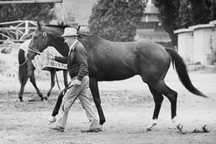 Trooper Seven
(1976-2000, Inducted 2003)
Starts: 28; Record: 13-5-3; Earnings: $371,435
Breeder, Owner and Trainer: Eugene Zeren
"Trooper" became the first horse in history to win back-to-back Longacre Miles. In one of the most remarkable days in state racing history, 25,031 fans, the largest on-track crowd ever at Longacres until 26,095 sorrowful fans attended its closing in 1992, shook the grandstand when their hometown hero held off a field of tough California invaders to win the 1981 Mile. One of 10 state champions sired by Table Run, Trooper Seven also equaled the track and then world record for 6 1/2 furlongs by winning the 1980 Governor's Handicap in 1:13 4/5. He won 13 of 28 career starts, earning $371,435. In his final season, 1981, he had a perfect five wins in five starts. The 1980 Washington horse of the year was bred, raised and trained by Eugene Zeren, who along with his wife Jean, stood the stallion at his birthplace, Whispering Firs Ranch in Wauna. He was one of two stakes winners out of the *Holandes II matron Miss Holanda. Click here for expanded profile.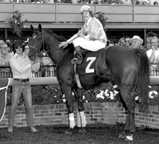 Turbulator
(1965-1989, Inducted 2004)
Starts: 47; Record: 21-7-7; Earnings: $102,457
Breeders: Tom & Marguerite Crawford
Owners: Tom & Marguerite Crawford and John Farnsworth
Trainers: Tom Crawford and Leonard Roberts

"Tubby" as he was affectionately known, was named after the tub-shaped, whirlpool-like, water therapy machine used to nurse an injured leg, which delayed his racing career until he was a four-year-old. Turbulator arrived at Playfair Race Course in the summer of 1969 as a maiden. After two months, he had won all seven of his starts at the Spokane oval. His great versatility carried him to victories from six to 16 furlongs. At age five, the stretch runner earned a permanent place in Washington racing history. That year (1970), he won five stakes races, set a world record for 6 1/2 furlongs in the Governor's Handicap and a Longacres track record for 1 1/16 miles in the Washington Championship. He also set a new standard for one mile at Yakima Meadows. His start in the 1970 Longacres Mile-G3 is an unforgettable part of Washington racing lore. Tubby was the six-to-five favorite in the 13-horse field and had Larry Pierce aboard for the journey. One of Pierce's stirrups became stuck in the starting gate and snapped when he finally broke free. In recovering from that mishap, Pierce's other foot also slipped from the remaining stirrup, yet in an incredible riding performance, he was able to bring home Turbulator in fifth, less than 2 1/2 lengths behind the winner Silver Double. He was later named Washington horse of the year and top older male runner for 1970. By Cold Command out of Fur Piece, by By Zeus, Turbulator was bred and trained by Tom Crawford of Spokane. Turbulator raced for Crawford and John Farnsworth until Crawford's death in 1972. Leonard Roberts took over the duties as Turbulator's conditioner and the gelding henceforth raced in the colors of Farnsworth and Crawford's widow, Marguerite. In total, he recorded 21 wins (including 11 stakes victories) and hit the board in 35 of 47 starts, earning $102,457. Click here for expanded profile.