"The Queen"
by Kimberly French

he captured four training titles at Longacres, is one of a handful of female trainers to compete in the Kentucky Derby and is considered an icon in an industry long dominated by males, yet during her teenage years Kathy Walsh did not think training horses would be her lifelong profession.
"When I graduated from high school I actually enrolled to go to college and he (my father) had another heart attack," she told The Blood-Horse in a 2009 video interview. "He had a 12-horse stable at that time, so I went back to the track. I wanted to do something different, but it just didn't work out that way and it turned out okay."
Known as the "Queen of Longacres," Walsh was born in Sonoma, California, in 1940 and was one of five children raised by Jim and Nonie Walsh. Her father owned a dairy farm, but transitioned to training Thoroughbreds due to a friendship with National Racing Hall of Fame member Buster Millerick, who conditioned the great Native Diver during the 1960s.
"Buster gave my dad his first broodmare," Walsh told The Blood-Horse in late 2008. "My dad grew up in Sonoma and Buster was from Petaluma, right next door. Buster would get him (her dad) to help shoe Native Diver because he had foot problems and Buster felt my dad was the greatest foot specialist that ever was."
The elder Walsh first raced his horses on the Northern California fair circuit and initially brought his stock to Longacres in 1960. In 1963 he purchased Don Porter's Green Valley Farm in the small South Central Washington town of Mabton and was the leading trainer at Longacres, with Kathy as his assistant, three times before his untimely death in 1970.
Although all the Walsh children always argued over who would take care of the horses, Kathy, who was actually named Nancy, was the one who accompanied her dad to the races and helped him with his stable.
"We all wanted to help because the horses were the most fun on the farm, but it was Kathy who was the one that ended up doing most of it," remembered Kathy's brother Ed, who was an eight-time leading trainer at Yakima Meadows and has won several Spokane Futurities. "It just kind of happened that way and then when our dad got sick, she just took over."
Kathy took out her assistant trainer's license in 1962, and in 1970, her first year on her own, finished third in the trainer's standings at Longacres. In 1971 she was second and in 1972 she won the first of her four training titles (1973, 1976, and 1978).
"When I won my first training title, it was a nice accomplishment and it felt really good," she told The Blood-Horse in 2009. "My dad had won a couple (1967 and 1969) of them and it made my mother feel really good. When you grow up in something, and it was easier for me than a lot of other women, because I grew up around everyone I ended up working with for years."
In her first decade at Longacres, Walsh was never lower than fourth among all trainers and during that time she conditioned 1973 Washington champion juvenile filly Patient Madam and had stakes winners like Brass Knight, Little Joker, Havadasher, Weatherlock, Say Prince, Cascade Katie, Any Time Lady, Tilt the Balance, Nell of the North, Discover Space, Patient Lou, Malert, Usibio and Happy Olympian residing in her shed row.
She also captured the Steve O'Donnell Memorial Award in 1979 for her veracity, leadership, cooperation and sportsmanship both on and off the racing oval.
"I ran the ranch with the broodmares and babies and then sent the horses to my dad and Kathy when they were ready to race," said Ed. "When our dad passed in 1970, things stayed like they always were, except he was gone. Kathy took over his string, which she was already running anyway, as my dad was not feeling well towards the end and everybody knew it, so no one gave her any guff.
"Staying at the ranch worked out better for me," he continued. "I like everything about the business from the bottom up, but really enjoy the broodmares and babies. Also, we were raising five children and Kathy was single, so how we did things just worked out for both of us."
Despite her success, Kathy decided to cut back from racing when she married Robert Hutchinson, who was a part-owner of Longacres and a magazine executive, in 1981, but returned to racing full time after the marriage ended.
"I found out I couldn't cook or sew," she told Bill Christine in 1998.
Upon the recommendation of Lou Eilken, who was the racing secretary at Santa Anita Park and had accepted the same position at a new track in Minnesota called Canterbury Downs (now Canterbury Park), Walsh made the trip to the "Land of 10,000 Lakes.
"Mr. Eilken talked me into going to the opening of Canterbury," Walsh told The Blood-Horse in 2008. "It was a very interesting venue with a lot of great people."
In 1988 she tied Bernie Flint as the facility's top trainer and she conditioned the 1987 Canterbury Debutante Stakes winner Turbo Launch, who would foal stakes winner Turko's Turn, a mare who later produced the 2001 Horse of the Year Point Given.
It was also during this time period that Walsh trained Warlow Stables' Staff Riot. The son of Staff Writer placed in several stakes in the Midwest, including a win in the Grade 3 President's Day Cup at Ak-Sar-Ben en route to being named Washington champion colt in both 1986 and 1987.
Her time in Minnesota was also beneficial for Ed and saw him leave the ranch to take a position in Kathy's stable. Unfortunately, the change of scenery had an ominous reason behind it.
"I got cancer in 1988 and had it for a couple years," remembered Ed. "Kathy was at Canterbury Downs and she knew some doctors at the Mayo Clinic there in Minnesota, so she wanted to take me to see them, so I became the barn foreman. We raced in Minnesota, Arkansas and Oklahoma City, when they first got their racetrack. After a couple years I came back to Washington and trained on my own until recently, but I'm starting again this year."
Kathy did return to Longacres for its last two seasons before the doors closed in 1992 and she won 11 stakes during that time.
In 1998 she became the eighth female trainer in horse racing history to saddle a horse in the Kentucky Derby (G1). The Irish-bred Hanuman Highway had defeated the 1997 Horse of the Year, Favorite Trick, in the Arkansas Derby (G2) but couldn't hold off future Belmont Stakes (G1) winner Victory Gallop. In the Run for the Roses, Hanuman Highway could manage no better than a seventh place finish behind soon to be dual classic victor Real Quiet.
"He was a horse that could run all day and had just got beaten by a nose in the Arkansas Derby," Walsh recalled in a 2009 The Blood-Horse interview. "Unfortunately he got unlucky in the Derby and came up with an abscess after the race. It was a once in a lifetime experience and I think everybody enjoyed doing it. I think everybody should do it once, maybe twice if you have a good one."
Her first graded stakes winner came in 2000 with Evening Promise (GB). Then, after more than four decades in the business and a multitude of stakes winners, Nany's Sweep gave Walsh her first Grade 1 triumph when the mare won the 2001 Santa Monica Handicap at Santa Anita.
Sydney Belzburg (Budget Stable), who owned Nany's Sweep, also provided Walsh with her only Breeders' Cup starter Boundless Moment. He finished ninth in the 1996 Sprint.
"He had a lot of little problems, but he won a $200,000 stakes at Bay Meadows," she told The Backstretch in 2001. "They retired him to the farm and made a hunter-jumper out of him."
Walsh nearly made it to Louisville in 2008 for a second attempt to bring home roses with the 2007 Del Mar Futurity (G1), 2008 San Vicente Stakes (G2) and 2008 San Felipe Stakes (G2) victor Georgie Boy, who she was also directly responsible for breeding and who went on to earn nearly $800,000.
"Kathy had her eye on the mare (Ippodamia, a daughter of Peterhof)," George Schwary, the gelding's owner/breeder explained to The Blood-Horse in 2008. "She was a Washington-bred horse. They brought her to California and put her in a $32,000 claiming race. Kathy told me, 'That's the one you need.' But she had some foot problems and Kathy recommended we breed her and give her a better life than racing on those feet."
Walsh suggested the stallion Tribal Rule as Ippodamia's mate and a year later, Georgie Boy, named by Schwary's wife after him, was born.
Shortly before the 2008 Santa Anita Derby (G1), a race in which he would have been the favorite, Georgie Boy was removed from the Triple Crown trail with a pulled muscle.
"People can tell you what it's like to go to the Kentucky Derby, but you can't predict what the intensity is like," Walsh told Jay Privman of the Daily Racing Form in March of 2008. "It's overwhelming. The thing I learned from the experience is not to the press or let anyone else tell you what to do with your horse. You got there doing what you know is best. You have to stick with the plan that got you there and not get caught up in the pressure cooker.
"You've got to realize these horses can't dance every dance," she continued. "Horses are bred different from years ago. Their pedigrees are different. The tracks are different. That helps make it so tough. Fortunately, I have an owner that respects me and trusts me."
Her brother thinks her approach to where and when her horses race is one of the key components of Walsh's success.
"She is awful slow with horses, and by that I mean she won't run them until they are ready," said Ed. "She also has always been very good at determining where to run the horse at. For instance, if a horse is a $10,000 sort, you don't want them running in a $30,000 race.
"She's never backed down from anything and always had a mind of her own," he continued. "Anybody that's worked for her will tell you there is one way of doing things and that's the right way. I even heard Gary Stevens, who used to ride a lot for my sister, say on the air one morning, 'not only is she the best woman trainer, but she may be the best trainer of both sexes.' I have never forgotten that. She has been a success from day one."
Although Kathy acknowledges her background from her father certainly was a boon to her career, she feels that being a woman in a man's world really did not affect her and that the people who entrusted horses to her care also aided her.
"It wasn't as dramatic of a change for me after my father died, because I had worked for him the last five years of his life, when he was really ill and I had great clients like Joe Gottstein," she told the Daily Racing Form in 2008. "But it was tough for women then. I think a lot of women came around, not all, but some, who thought it was all glory and romantic and fun to be a trainer. A lot of people didn't get chances, but if you are willing to work, there are lots of opportunities."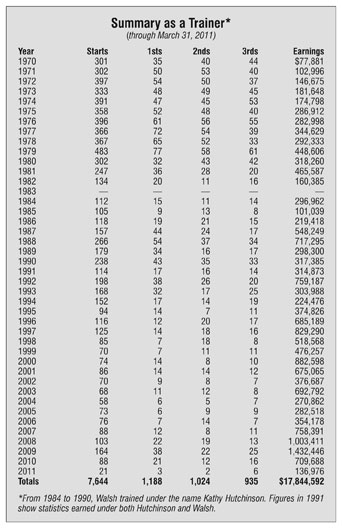 Pennsylvania resident Kimberly French is a freelance writer whose work has appeared in Thoroughbred, Standardbred and Quarter Horse publications. She also freelances as a production assistant for ESPN's horseracing broadcasts.
Click here for a complete list of all the Washington Hall of Fame inductees.