The good filly
by Susan van Dyke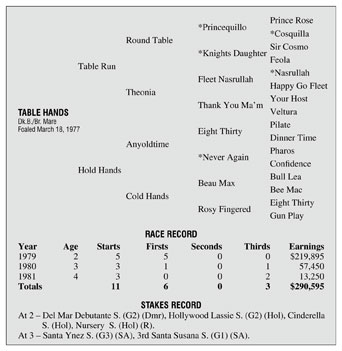 oaled on March 16, 1977, Table Hands would become one of, if not the best, two-year-olds ever produced in the Evergreen State and help to bolster the national legacy of the Washington-bred Thoroughbred.
Fruit of Yakima
The lovely dark bay filly was bred by 2009 Washington Racing Hall of Fame breeder inductees Wilbur and Marianne Stadelman.
Born in The Dalles, Oregon, in 1905, J. Wilbur Stadelman was one of two sons of prominent Oregon businessman and politician Peter J. Stadelman. Pioneer fruit shippers located near Yakima, Wilbur and his brother George's Stadelman Fruit Company was said to have shipped more than 50-million boxes of cherries.
Wilbur and his first wife Florence got involved in racing in the late 1950s and among the horses they campaigned was 1960 Longacres Mile winner Doctrinaire. Five years later Stadelman had his second Mile winner with Argentine import *Aurelius II. 1966 was also the same year Stadelman's Luck Amuck would become the first of his four Mary Broderick Stakes winners.
Stadelman, along with A. J. Penney, was one of the "movers and shakers" who founded the Yakima Valley Turf Club and was its first track president when the meet opened in 1961.
After Wilbur was widowed in 1963 he married Marianne and they continued breeding and racing top runners until his death in 1984, after which Marianne carried on their rich racing tradition by breeding two more champion fillies in Little Bit Tipsy and Got You Runnin, both daughters by Table Run.
Cold Storage
Bred in Texas in 1953 by King Ranch, Cold Hands – Table Hands' grandam – was a good enough racemare to win five races and finish second or third in another 17 of her 32 starts. Acquired by Stadelman as a four-year-old, Cold Hands placed in two Southern California stakes, the Inglewood Golden Anniversary and Santa Monica handicaps, the following year. Her sire, Beau Max, who was also bred by the enormous and famous Southwest ranch, was an allowance-winning son of five-time leading sire Bull Lea out of stakes-winning and multiple stakes-producing Bee Mac, a daughter of War Admiral. Beau Max sired 15 stakes winners with the best being $339,587 earner How Now, who won 11 stakes, including two renditions of the Del Mar Handicap, one in track record time.
Cold Hands produced five foals, of which the first four were bred by the Stadelmans, led by the My Host filly Hot Hands, who had four victories and finished second in the 1965 Mary Broderick Stakes.
In 1964 Cold Hands was sent to the court of Anyoldtime, who had moved from California to stand at WSU's Hilltop Stables in Pullman for the 1963 breeding season. Though not a stakes winner, the 1948 son of Eight Thirty had finished second by a half-length to Rough'n Tumble in the Primer Stakes in his first lifetime start and at three had run third in the Flamingo Stakes. Anyoldtime was a half-brother to four stakes winners, including major runner Oil Capitol. At the time of his move north, his would-be $326,384 stakes winner Sledge was just a minor winner. All in all Anyoldtime would sire 14 stakes winners (10 percent) from 139 foals in 20 crops. Foals from his Washington crops would be highlighted by Longacres Derby winner Honda Dream, William E. Boeing Stakes winner Fosket, Memorial Day Handicap winner Now Is the Time and Cold Hands' daughter Hold Hands.
Hold Hands, who was inbred 2x3 to the speedy and classy Eight Thirty, won her only start, a five-furlong maiden race on May 27, 1967, at Longacres for the Stadelmans and earned $900.
Bred as a three-year-old, Hold Hands' first foal was also her first stakes winner, as Hot Feet, by Cold Command, won the 1971 Mary Broderick Stakes and later added two more stakes tallies at three. Next came Yakima Valley Derby winner Whatawaytogo, a son of Kotzebue. Bred to *Aurelius II for the first time, Hold Hands produced 17-race winner Prince Aurelius. Two years later she foaled her second foal by the Argentinian stallion, Any Time Girl, who would become the first Washington graded stakes winner after taking the Grade 2 Oak Leaf Stakes by the closest of margins when she bolted to the outside rail "running sideways as much as forward." She won or placed in four other stakes and was Hold Hands' first Washington horse of the year. Any Time Girl also placed in three California stakes at three, including a third in the Santa Ynez Stakes (G3), before her early death.
Bred again to *Aurelius II, Hold Hands foaled Got You in 1975. Placed in the Camellia Stakes at Sacramento, Got You produced two stakes-winning daughters: 1984 Washington champion two-year-old filly Got You Runnin and I Got Silver, by Petersburg.
Table Hands' accomplishments, along with Hold Hands' three other stakes winners, would lead to Hold Hands being named Washington broodmare of the year in 1979, but the broodmare standout was far from done. The Stadelmans' "blue hen" would produce seven more named foals – the last being in 1989 at age 24 – of which Crystal Run, another offspring of Table Run, would win or place in ten stakes, including a second in the 1989 Longacres Mile (G2) and be named 1989 state champion sprinter. Two other of Hold Hands' later foals would place in stakes: Leather Hands, a daughter of Leather Lyon; and the twice graded placed juvenile Gumboy, a son of Gummo, who would become a useful sire in Washington.
Table Run, Run, Run
Table Hands was from the second crop of the classy Longacres Derby winner Table Run. Purchased as a weanling for $37,000 by Sunnyside dentist Dr. John Furukawa, Table Run was one of 83 stakes winners sired by the great and mighty racehorse and sire Round Table. The 1954 son of *Princequillo made 66 starts over four seasons and won 43 of those races (31 stakes), many of which were among the top stakes in the nation. Round Table amassed a total of $1,749,869, a huge amount of money for a horse running from 1956-1960, had a SSI of 72.73 and was named 1958 Horse of the Year, 1958-59 Champion Older Male and 1957-59 Champion Grass Horse.
Table Run's dam Theonia was sired by the speedy Fleet Nasrullah and she was a half-sister to the good California stakes winner Ruken. A winner of four races, Theonia produced eight foals and seven winners before her untimely death (while bred to Mr. Prospector) in a barn fire in Kentucky in 1981. In addition to Table Run, there was 1977 Longacres Mile (G3) winner Theologist, by Prince John; Drumheller Memorial winner Noholme Way, by *Noholme II; and the stakes-winning *Pronto filly Hello Theo. All three of Theonia's stakes-winning sons would stand in Washington, as well as her first born Grits and Gravy, a son of Olden Times.
After breaking his maiden at two at Santa Anita by five lengths in gate-to-wire fashion, Table Run won a trio of stakes at three, led by his nine-length victory in the Longacres Derby in "which he made shambles of his field" and his near track record Seattle Handicap tally in which he defeated the likes of Turbulator, Silver Mallet and Strong Award. He was named 1973 Longacres horse of the meeting. The dark bay colt also won the Hayward Stakes at Bay Meadows and ran second in the Alibhai Handicap at Santa Anita.
Table Run entered stud at Guy and Barbara Robert's Guy Bar Farm in Sunnyside in 1976 and stood there until his death in March 1989. He topped the Washington sire ranks for three years (1980, 1981 and 1989) and sired 37 stakes winners, led by ten state champions.
Something Special
Table Hands learned her first lessons at Guy Bar, before being sent south to trainer Jake Battles at his Golden Gate Fields base. Battles had trained Table Hands' illustrious half-sister Any Time Girl, and was soon impressed with the younger sister's temperament – as Any Time Girl had been flightier – and speed.
"I knew the first time I breezed her (Table Hands) she was something special," said the then 56-year-old trainer. "I got her a quarter in :24 and on out three furlongs in :34 3/5, as easy as can be, and I thought, 'whoa, you don't work young horses that way.'"
But it was after she went a half in :45 2/5 and five-eighths in :57 2/5 that the Oklahoma native knew it was "Hollywood Park here we come."
Table Hands made her racing debut at the Inglewood track on May 17, 1979, winning a five-furlong maiden special weight race in a gate-to-wire tally, after burning fractions of :21 2/5 and :44 3/5, by four lengths under rider Enrique Munoz and with a 93 speed rating.
Her next start, and victory, came in the restricted 5 1/2-furlong Nursery Stakes which she took by one length (92 speed rating) on June 13 with Munoz again in the saddle.
Two weeks later in her third Hollywood Park outing, the smooth-striding filly again led at all calls to capture the 5 1/2-furlong Cinderella Stakes by three-quarters of a length (90 speed rating) with Richard Galasara in the saddle, as Munoz sat out a suspension.
The Grade 2 $75,000 Hollywood Park Lassie Stakes on July 14 was Table Hands' next objective, and after paying a $5,000 supplement to the six-furlong stakes, she rolled out another impressive performance to prevail by a decisive 4 1/2 lengths while under Munoz, even after seemingly losing her balance and suddenly ducking in and hitting the rail in the early stretch. Her final race time of 1:10 2/5 earned her an 85 speed rating.
After the race Battles called it his "biggest win by my best horse." He further commented "She was simply the best. She's a good filly, and I think she can run with good fillies anywhere."
The Washington speedster "with smooth feminine features" was named top two-year-old filly for the 1979 spring Hollywood Park meeting, though there were a few lingering thoughts about how far she could go.
New Owners
After her conquest in the Lassie, Table Hands was sold sight unseen for a reported $500,000 (a record purchase price for a Washington-bred) to young East Coast businessmen Joseph Allen and Peter Brandt and moved to Willard Proctor's barn. Allen, then 38, had first gotten into racing only four years before and was on the lookout for stakes-winning fillies.
Seven years separate cousins Allen and Brandt, who were partners in their families' privately-owned newsprint company, Brandt-Allen Industries, which was later renamed White Birch Papers. The younger Brandt, a classmate and childhood friend of Donald Trump, would later found Brandt Publications Inc., become a billionaire and breed 1995 Kentucky Derby (G1) winner Thunder Gulch. He also has made a name for himself as a noted art collector, benefactor and a highly-rated polo player.
Among the preeminent racehorses the cousins would either race together, alone or in other partnerships were champions Just a Game and Gulch – and Gulch's multiple graded stakes-winning dam Jameela – and top runners Dynaformer, Darby Creek Road,War Front, Waya (Fr), Lakeville Miss – and her Grade 1-winning son Mogambo.
Sent south for the Del Mar meet, Table Hands, who had to be supplemented with a $7,500 payment this time around, proved more than ready for the $100,000 Del Mar Debutante Stakes (G2), which had been lengthened to a mile for its 28th running. With new partner William Shoemaker in the saddle, the dark-hued filly was six lengths on top at the quarter (:21 4/5), ten in front at the half (:43 4/5), led by a dozen lengths after going six furlongs and was still leading in the stretch by seven before taking her fifth consecutive race by six lengths in 1:35. In this brilliant win, Table Hands took over a full second off the stakes record set by the speedy Terlingua (future dam of Storm Cat). Finishing second was Sam Roffe's ill-fated Hazel R. Table Hands' six-furlong split of 1:08 4/5 was, in fact, faster than all but one of the final six-furlong times in the previous 23 years running of the race.
Her expeditious race windup was also believed to be the fastest mile ever run around two turns by a two-year-old filly. New trainer Proctor was given much of the credit, having brought the filly up to the race on workouts alone.
Proctor commented after the race, "There was never a doubt in my mind that she would go around two turns."
The Blood-Horse columnist Robert Hebert would write after the race "the filly must rank as the finest Thoroughbred ever produced in the state of Washington."
According to Jeff Siegel in the Thoroughbred Record, "The way she demolished her rivals in the mile affair was nothing short of amazing." Siegel added when commenting on the quick Del Mar racing surface that Table Hands "appears capable of making quicksand look fast."
In recognition of her exploits, on a national level, Table Hands was voted the Eclipse Award runner-up in her division to champion Smart Angle, and assigned only one pound (120 to 121) below the East Coast-raced filly on the Experimental Free Handicap. Ranked below them were future Kentucky Oaks (G1) winner Bold 'n Determined at 117 and future Kentucky Derby (G1) winner and champion Genuine Risk at 116.
On a Washington grade, Table Hands was an easy vote for Washington champion two-year-old and became the second Washington horse of the year for her dam and one of three state champions in Table Run's first two crops.
Sophomore Campaign
Returning to the races five months later – after being plagued with hoof problems – Table Hands made it six in a row when she secured the seven-furlong Santa Ynez Stakes (G3) in her 1980 debut on February 23.
Carrying the 124 pound race highweight, Table Hands, again with Shoemaker up, won the stakes in 1:22 2/5, though only by a head, with the previously unbeaten Bold 'n Determined fourth. It would be the Washington-bred's final win.
Shoemaker commented after the race, "I had hoped to lay second early, but she is so darned fast. This filly is a runner."
Barry Irwin wrote in his California review for the Thoroughbred Record that the Santa Ynez had "one of the strongest fields ever to gather for a race at Santa Anita." He went on to pen that "Carrying the low-slung body of an old-time sprinter, Table Hands has incredible speed."
Trying to stretch out to a mile and a sixteenth for the March 9, Grade 1 Santa Susana Stakes, Table Hands pulled Shoemaker to a lengthy early advantage before finishing third in the $100,000 stakes, though only a half-length and neck behind Bold 'n Determined and Street Ballet. After running fourth in the mile Senorita Stakes on April 21 – when she set early fractions of :22 3/5, :45 4/5 and 1:09 4/5 – Table Hands was retired for the season with $277,345 in earnings.
At four, Table Hands finished her race career with two allowance thirds at Santa Anita and finally a fifth in Hollywood Park's Convenience Stakes on April 25, 1981.
In her 11 lifetime starts she had six wins, three seconds and earnings of $290,595, which was enough to place her third highest among all Washington-bred earners. Her SSI was 32.65.
Disappointment
Although other daughters of Hold Hands would leave their mark, most notably Anytime Ms. (1970 full sister to Any Time Girl), who would produce Breeders' Cup Juvenile Stakes (G1) and Santa Anita Derby (G1) winner Brocco and stakes winner Shapiro's Mistress – dam of two stakes winners and grandam of Grade 1 winner Gozzip Girl – Table Hands would prove a disappointment in the breeding shed.
First sent to the court of English Triple Crown winner Nijinsky II, Table Hands foaled the filly Blint in 1982. Blint won one race and would prove Table Hands' second best runner from ten named foals. Her best runner was the 1983 Lyphard filly Card Played, who won one race and earned $41,760. The speedy Washington distaffer was also bred to Seattle Slew (twice), Crafty Prospector (twice), Secreto (twice), His Majesty, Mogambo and Silver Deputy.
Table Hands' only daughter to produce a stakes horse was the 1995 Silver Deputy filly Silver Service, and she had two, both geldings by Siberian Summer. Summer Service, foaled in 2000, won 18 races and earned $491,723, including a victory in the $40,000 Lola Bella Stakes at Calder at six. Among his six other stakes placements were placements in a trio of Grade 3 races, one each at Hollywood Park, Santa Anita and Belmont Park. His four-year younger brother Reagan Republican ran third in the Albany Handicap in 2012. He currently races for Washingtonian David P. Taylor Jr. and is trained by Frank Lucarelli. The now nine-year-old runner, who last started on July 17, 2013, at Sacramento, has a money total of $239,800.
Two of Table Hands' granddaughters have emerged as stakes producers. Unraced By My Side (1990, Ogygian—Blint) was sent to Brazil where she produced In My Side, a 1996 filly by Clackson who won the Grande Premio Roger Guedon (Brz-G3).
Floral Tapestry (1991, Cox's Ridge—Card Player) is the dam of $212,007 earner Duddly Doo Run, a 1999 gelding by Bonus Money (GB), who won the Saguaro Stakes at Turf Paradise as a three-year-old and placed in ten other California and Arizona stakes races.
As eight of her foals were fillies, there is still a glimmer of hope that somewhere down the racing highway we will see a descendant of Washington's brilliant bay filly once again put her name in the limelight.
ADDENDUM:
Table Hands Descendent Wins Brazilian Triple Crown
On March 15, 2014, at Gavea racecourse in Rio de Janerio, Brazil, Bal A Bali – whose fourth dam is 2013 Washington Racing Hall of Fame inductee Table Hands – took his third Grade 1 stakes and became Brazil's 12th Carioca Triple Crown winner. (Brazil has two Triple Crown series, the other is at Cidade Jardim in San Pablo City.)
Foaled on a Southern Hemisphere timetable, the Brazilian three-year-old took the Grande Premio Cruzeiro do Sol (Brz-1) – also known as the Brazilian Derby – a 2,400-meter turf race, by one length in a stakes record time of 2:23.25. It was his seventh stakes win and ninth victory in ten starts. Bal A Bali had previously taken the first leg of the Carioca Triple Crown – the 1,500-meter Estato do Rio de Janerio Stakes (Brz-1) – setting a new track record of 1:31.36, and near world record time (1:31 flat) on January 12.
One of 51 black-type winners sired by $232,895 stakes winner Put It Back, a 1998 son of Honour and Glory, Bal A Bali is out of In My Side, a daughter of Clackson who won the Grande Premio Octavio Dupont (Brz-3) and the grandam of Brazilian Grade placed Magic Tap. In My Side's grandam Blint, by Nijinsky II, was one of only two winners produced by Washington horse of the year and Grade 2 winner Table Hands. (Susan van Dyke, March 25, 2014)
Click here for a complete list of all the Washington Hall of Fame inductees.