From Idaho to infinity
by Grant Clark

n September 20, 2003, Gary Lynn Stevens was inducted into the inaugural class of the Washington Thoroughbred Racing Hall of Fame. While countless other notable riders, including National Hall of Fame jockeys Ralph Neves, Johnny Adams, Albert Johnson and Russell Baze, have also used the Pacific northwest as a stepping stone into racing elite, Stevens is the local rider that went on to the greatest national fame.
An incredibly talented rider and fierce competitor, Stevens has won more than 4,800 races during his illustrious 25-year career, including eight Triple Crown races and eight Breeders' Cup races, and is arguably the world's top jockey of the past quarter century.
Along Came a Horseman
Born March 6, 1963, in Caldwell, Idaho, Stevens was the youngest of Ron and Barbara Stevens' three sons. Like many jockeys, Stevens was around horses from day one, as his father trained Thoroughbreds and Quarter Horses.
"Horses were a part our life," said Stevens during an interview with Lenny Shulman for the book Ride of Their Lives: The Triumphs and Turmoil of Today's Top Jockeys. "They were always there, right outside. We'd walk to the garage, grab a bridle and a saddle, and go for a ride. Instead of riding bicycles, we rode horses. But I never cared about them until I galloped my first racehorse. My brother Scott had started to ride professionally, and I saw the money he was making and the enjoyment he was getting out of it, and I figured I'd like to try that. He talked my dad into letting me get up on a racehorse. That was it. I was hooked. The power was incredible. At age twelve I knew that's what I wanted to do."
Stevens' riding future, however, was put in jeopardy at age seven when he was diagnosed with Legg-Calve-Perthes Syndrome, a degenerative disease, which debilitates the hip socket joint.
Required to wear a metal brace on his right leg for 19 months, Stevens was told the likelihood of him being able to compete athletically was bleak, as was the chance of him walking without pain for the rest of his life. Yet, prior to turning 14, Stevens was already winning Quarter Horse races at the bush tracks and fairs within his home state.
Older brother, Scott, a leading rider at Turf Paradise and one-time member of the Longacres jockey colony, had moved on to riding Thoroughbreds and it wasn't long before Gary made the transition as well.
A mere month and a half after turning 16, Stevens rode in his first career Thoroughbred race, winning aboard Little Star, a horse conditioned by his father, on April 21, 1979, at Les Bois Park.
But riding wasn't the only thing Stevens excelled at. An accomplished wrestler in high school, he received several scholarship offers to wrestle at the collegiate level.
Wrestling, and school for that matter, was not in his future as he dropped out of high school at the age of 17 to pursue a career as a jockey, and with his parents' consent, he accepted an offer to apprentice for southern California trainer Chuck Taliaferro. Taliaferro had a history of developing young riders. His prior protégés included Steve Cauthen and Cash Asmussen. Stevens turned out to be a star pupil.
"Maybe I was naïve," Stevens said during his 1997 induction into the National Racing Hall of Fame. "And maybe I wouldn't have done as good had I known just how tough the business is. But I had no fear that I wasn't going to succeed. I had no idea on what level I'd be successful, but I knew I wasn't going to fail."
Southern California, Take One
From a numbers standpoint, Stevens' first attempt at riding on the tough southern California circuit didn't go as planned. He finished his first stint a dreadful four-for-90.
Although many would view his initial voyage to the Golden State a failure – it was quite the contrary. It was during this time that Stevens' evolution into one of the sport's premier riders began.
While Stevens was saddled aboard also-rans and longshots, he watched and studied his fellow jockeys – greats like Bill Shoemaker, Laffit Pincay, Jr. and Darrel McHargue. He picked the three best jockeys he saw and attempted to combine their style into one – Shoemaker for his hands and finesse, Pincay for his strength and McHargue for the way he looked atop a horse.
It was these three riding styles that Stevens merged together to call his own and while he only lasted four months in Los Angeles, he would later call these the greatest four months of his career.
"I saw those guys down there ride and saw who I had to emulate. I got the experience of working with the top horses and top horsemen, and riding with the best jockeys in the world."
Stevens returned to Idaho a different rider and quickly applied his newly acquired knowledge and experience, riding 10 to 12 races a day in Boise.
The following year, he moved his tack to the Pacific coast – winning the first of two straight riding titles at Portland Meadows during the 1981-82 season. His next stop would be Longacres.
Longacres Glory Years
Stevens burst onto the local scene in 1982, winning 95 races and finishing third in the jockey standings during his first season at Longacres. He placed in 13 stakes races and picked up his first stakes victory aboard Mr. Free Spirit in the 1982 Washington Stallion Stakes. In addition, Stevens registered a season-best 10 consecutive days with at least one win.
The next year, Stevens earned top riding accolades, when he captured his first ever Longacres riding title with a then-record 168 wins – surpassing the previous season's record high of 154 victories set by fellow Washington Hall of Fame member Gary Baze.
Stevens won his first Longacres riding title in style, winning five races from eight starts the afternoon he broke Baze's record. That same season he also became the first jockey in track history to ride over 1,000 mounts in a single season, compiling a 16.5 win percentage. He rode a season-high nine stakes winners in 1983, including four with state champion three-year-old Prairie Breaker and had a season high 13 consecutive days with at least one win.
Those statistics, however, pale by comparison to what Stevens did for an encore in 1984. It was during that year that he began his trek towards racing super stardom when he annihilated every riding record in Longacres track history en route to his second straight Longacres riding crown.
To say Stevens dominated the 1984 season would be a gross understatement. At the age of 21, he broke the record of 168 season victories he had established in 1983 by an astounding 64 victories, and finished 148 wins in front of second-place finisher Gary Baze.
He tallied his first stakes win that season aboard the Eugene Zeren-trained Dyanzastar in the Seafair Queen Stakes – 14 additional stakes triumphs, including victories aboard Sharper One, Lady of Rainier, Prairie Breaker and Got You Runnin, followed as he finished with a track-record 15 stakes wins – bettering the previous track high of 13 set by Jack Leonard in 1969 – and hit the board in 29 of 34 stakes races ran that year at Longacres.
In only four years of local competition, Stevens finished fifth all time in stakes wins at the Renton racetrack and ended his Longacres career with 524 wins.
After moving his tack back to southern California, Stevens frequently returned to Renton to ride. None was more memorable than his return on September 22, 1992, when he came back to ride all 11 races on the final Longacres card, winning the 60-year-old track's last race aboard Idaho-bred, Native Rustler.
"Washington will always be an important part of me," said Stevens, who set a Longacres track record in 1984 by winning at least one race in 31 consecutive days. "It was there that I became a jockey and I will always have a special place in my heart for the racing up there."
The Return of the Jedi (Rider)
When Stevens returned to California in late 1984 he wasn't the same rider local racing fans had remembered – far from it. He was no longer the teenage apprentice trying to absorb everything he could by watching the top riders. He was there to win races.
And that's exactly what he did. Stevens won on 15 percent of his mounts his first year back in southern California and won an impressive 20 percent of his graded stakes races, including victories with Tsunami Slew in the Carleton F. Burke Handicap-G1 at Santa Anita, the Eddie Read Handicap-G2 at Del Mar and the American Handicap-G2 at Hollywood Park.
These successes led to his first Kentucky Derby-G1 mount, Tank's Prospect, in 1985.
The following year Stevens was the top rider on the west coast – winning his first Santa Anita riding title in 1986 with 103 victories. Three more Santa Anita titles followed in 1988, 1990 and 1993.
He also won riding titles at the Hollywood summer meet (1986 and 1988), Hollywood fall meet (1986, 1988, 1992 and 1994), Del Mar (1987 and 1988) and Oak Tree (1986, 1987 and 1997).
Third on the all time Santa Anita stakes wins list and fourth on the all time Santa Anita wins list, Stevens has won two stakes races on the same day at Santa Anita a remarkable eight times and won three stakes races, including a victory aboard Awesome Daze in the California Cup Classic, at Santa Anita on October 25, 1997.
Stevens, along with Shoemaker and John Longden, are the only riders in history to have won back-to-back editions of the Santa Anita Handicap-G1.
However, his biggest southern California riding feat may be his record nine Santa Anita Derby-G1 victories – one more than the great Shoemaker.
"When I won the first time with Winning Colors in 1988, I thought it was great to win such a big race," said Stevens, who won his ninth career Santa Anita Derby in 2003 aboard Buddy Gil. "I could never imagine winning two or three, much less nine and breaking Shoemaker's record."
Winning Colors
When asked the most memorable race of his career, Stevens wastes little time in answering: "Riding Winning Colors in the 1988 Kentucky Derby. No question about it."
In April of 1988, the big roan filly took on and beat the boys in the Santa Anita Derby – becoming the first filly to win the race since Silver Spoon in 1959. It was at that moment that her connections were convinced they should try her in the Kentucky Derby.
Only twice before – Regret in 1915 and Genuine Risk in 1980 – had a filly won the Kentucky Derby. On May 7, 1988, with Stevens in the irons, Winning Colors became the third.
"Winning that race is just indescribable," he said. "It's the pinnacle of our profession. It's the Super Bowl, the World Series, everything. You just feel fortunate to get a chance to ride in the race, much less win it."
Winning Colors, with Stevens aboard, went on to finish third in the 1988 Preakness Stakes-G1 before nearly handing Personal Ensign her only career defeat in the 1988 Breeders Cup Distaff-G1. Stevens and his favorite filly had to settle second, being nipped at the wire by the undefeated four-year-old champion.
The 1991 Mile
By the time the 1980s ended, Stevens was one of the racing's brightest stars.
In 1990, his statistics included an Eclipse Award, a nation-best $13 million in earnings, 10 grade one triumphs, three victories in races worth $1 million or more and a total of 46 stakes wins.
It was a banner year for Stevens. However, one race still eluded him. The Longacres Mile-G3, a race in which he had finished a disappointing fifth aboard favorite Annual Date in 1990. Stevens had ridden in four previous Miles; his fifth-place finish in 1990 was his best to date.
"I always said I wanted to win the Mile before my career was over," Stevens said.
Around the time Stevens was finishing off the board in the 1990 Mile, Edmund Gann was thinking about buying a horse in France. The horse was an Irish-bred named Louis Cyphre. Gann paid $80,000 for the four-year-old and brought him to America where he went to the barn of trainer Bobby Frankel.
Following victories in the Mervyn LeRoy Handicap-G1 and Golden Gate-Budweiser Fields Breeders' Cup Handicap, Frankel shipped Louis Cyphre to Washington for the 1991 Longacres Mile. The Irish-bred was exactly what Stevens needed to fill the one void in his career as the duo easily won the race by 4 1/2 lengths.
"It felt better than I thought it would," Stevens said after adding the elusive stakes to his ever-growing resumé. "I was trying to put it off in my mind that it wasn't a big thing. But when I crossed the finish line, it was something special. This is not the biggest money race, but it's the one I've always wanted to win."
A Bittersweet Derby
Stevens won a remarkable 16 grade one races in 1995: Beldame Stakes; Haskell Invitational; Mother Goose Stakes; Gazelle Handicap; Black-Eyed Susan Stakes on the great Serena's Song; and the Kentucky Derby, Belmont Stakes, Travers Stakes and Swaps Stakes on Thunder Gulch.
Of all his wins that year, none were as bittersweet as his Kentucky Derby victory aboard Thunder Gulch. During the 1995 Derby week, former Longacres and Kentucky Derby publicist Mark Kaufman died suddenly of a heart attack.
After Thunder Gulch's victory, Stevens honored his good friend.
"I sent a message to his wife that I was going to have a special passenger with me today and that I expected to give him the most thrilling ride of his short life."
Silver Charm's Almost Triple Crown
While Stevens declares Winning Colors' victory in the 1988 Kentucky Derby his most memorable race, his favorite mount was Silver Charm.
As it turned out, 1997 was loaded with talented three-year-olds – Touch Gold, Free House, Captain Bodgit and Pulpit, just to name a few. But it was Silver Charm and Gary Stevens (who also served as the president of The Jockey's Guild that year) that captured the nation's attention.
After winning the Kentucky Derby and Preakness, Stevens went into the Belmont Stakes attempting to guide Silver Charm into history as the sport's 12th Triple Crown winner.
Silver Charm, the 26th horse to accomplish the Kentucky Derby and the Preakness dyad, became the 15th which did not complete the Triple Crown after Touch Gold won the Belmont by a slim three-quarters of a length in one of the greatest Belmont stretch runs ever.
Stevens had been worried the New York crowd would boo the west coast-based jockey and horse upon their return after the mile and a half classic, but it was quite the opposite, as the Belmont crowd showered their efforts with cheers.
The following year, Stevens guided Silver Charm to a victory in the Dubai World Cup-G1 and to a second-place finish in the Breeders' Cup Classic.
1998 also saw Stevens play the role of spoiler as he guided Victory Gallop to a win in the Belmont, preventing Real Quiet from taking the Triple Crown.
Retirement and Comeback
On December 1, 1999, Stevens underwent surgery to have a cyst removed from his right knee. The surgery came just four weeks after Stevens guided Anees to a win in the Breeders' Cup Juvenile-G1.
A mere 25 days later, he returned to racing, only to announce his retirement the next day, citing chronic pain and wear and tear on his knees. It marked the fourth time Stevens had his knees operated on, also going under the knife in 1995, 1997 and 1998.
He tried working as an assistant for trainer Alex Hassinger and the Thoroughbred Corp. and as a jockey's agent, but neither brought him same kind of satisfaction as riding and after only 10 months Stevens ended his retirement and returned to riding on October 4, 2000.
It didn't take Stevens long to get back into the spotlight. Just a few months after his comeback he was riding Kentucky Derby favorite Point Given, a son of Steven's 1995 Kentucky Derby winner Thunder Gulch.
Point Given could not duplicate his father's success at Churchill Downs – thanks in large part to lightning-fast fractions – and finished fifth behind winner Monarchos in the Derby.
Stevens would later state the 2001 Kentucky Derby was perhaps the loss he regretted most during his career, as he believed the Bob Baffert-trained Point Given was deserving of the Triple Crown.
Point Given more than backed up that statement by winning both the Preakness and Belmont in impressive fashion.
"It was like I had a loaded cannon and all I had to do was pull the trigger when it was time," said Stevens following his 12-length victory aboard Point Given in the 2001 Belmont.
Lights, Camera, Action
The first time filmmaker Gary Ross met Stevens he knew he had found his "The Iceman." Ross was briefly introduced to the jockey at Santa Anita, prior to a day of racing in the winter of 2002.
Following the races, Ross, three years removed from directing his first feature, Pleasantville, entered the jockey's room with hopes of convincing the Hall of Fame rider to accept the role of legendary jockey George Woolf in his screen adaptation of Laura Hillenbrand's best-selling novel Seabiscuit.
Ross had already secured Jeff Bridges, Chris Cooper and Tobey Maguire. Bridges had appeared in more than 50 films over the past five decades; Cooper recently took home the Academy Award for Best Supporting Actor for his role in Adaptation; and Maguire was coming off a star-making performance as the title character in the ultra-successful Spiderman.
Despite this star-studded line-up and the fact that Stevens had never acted before, Ross still personally took the effort to track down Stevens.
The meeting didn't go as planned for the director. Stevens had ridden five races on the day's card – finishing second four times. And for someone as competitive as Stevens, seconds do not set well with him and the last thing on his mind was acting.
"I said two things to him," Stevens remembered, "You don't have enough money and I don't have enough time and walked away. Turns out I was wrong about both of them."
Stevens' initial reaction was certainly justifiable. He loved the book so much and felt there was no way a film could do it justice. But Ross was persistent and eventually got Stevens to read a copy of the script. From that moment on, Stevens was sold.
"I get as much of an adrenalin rush out of acting as I do in riding in races," Stevens said.
Seabiscuit ended up being one of 2003's biggest cinematic hits – grossing more than $120 million domestically at the box office and receiving seven Academy Award nominations, including one for best picture.
"I had no idea this would happen," said Stevens, who recently wrote his auto- biography, The Perfect Ride. "I had no wish for it to happen, but sometimes gifts are bestowed upon you when you least expect it."
His new found cinematic fame had much to do with his being named one of People magazine's 50 Most Beautiful People of 2003.
The Future
In the 2003 Arlington Million-G1, Stevens suffered a collapsed lung and fractured vertebra when he had an horrific fall from Storming Home, who crossed the finish line first, but was later disqualified from victory. It was the latest in a career colored with injuries for Stevens.
However, once again injuries did little to slow him, as he returned to riding less than three weeks after the almost fatal incident.
Last year, Stevens had a stint as a contract rider for leading French conditioner Andre Fabre. Stevens rode in France for five months, winning 55 races, including the Prix Maurice de Gheest-G1 with Somnus, before returning to the United States in late August.
Stevens and his second wife Nicky reside in Arcadia, CA. He and his former wife Toni Baze (Gary's sister) have four children: daughters Ashely and Carlie and sons T. C. and Riley.
With a budding movie career in the works, Stevens is currently weighing his options as to what he will do next.
"As far as retirement is concerned, I have no time line," Stevens said. "I was a raving lunatic for the 11 months that I spent out and I love mixing the two professions together."
One thing's for certain, whichever path Stevens chooses to take, odds are success will follow.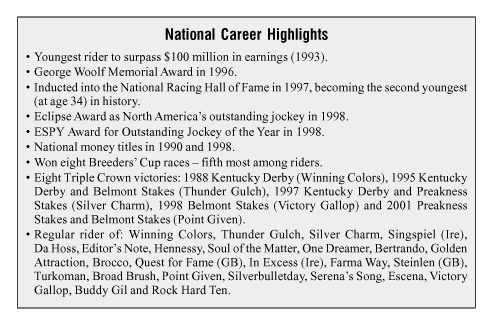 Click here for a complete list of all the Washington Hall of Fame inductees.