A born leader
by Susan van Dyke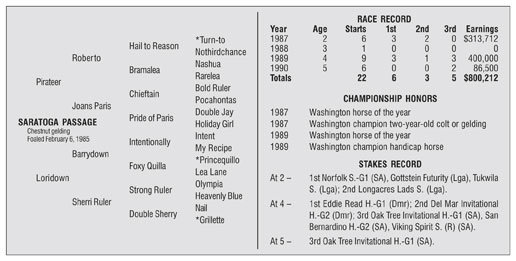 aratoga Passage is Washington's all time leading money earner and only grade one stakes winning male. He was named after the spectacular view seen from his breeders Melvin and Helen Beck's Oak Harbor home. And spectacular is one of the many glowing adjectives that can be used to describe both the horse and his accomplishments.
Getting "Down"
In 1981, Melvin and Helen journeyed south from Oak Harbor to Renton to look for a broodmare at the WTBA's annual December sale. The Becks had recently purchased a small five-acre farm and decided, after visiting a few farms in Enumclaw while accompanying a friend on his search for a mare, that a broodmare or two would go well with the cattle they planned to raise.
Among the record 556 horses and shares consigned to the WTBA Winter Mixed Sale was an unraced three-year-old filly named Loridown, in foal on an April 21 cover to the young Dr. Fager stallion Family Physician. The Becks signed the sales ticket for the chestnut filly (Hip 435), paying $5,500 for their future two-time Washington broodmare of the year. She was only the second broodmare the Becks had ever owned.
Bred by Lou Sekora and Pete Bakamus, Loridown was from the first crop of Barrydown, a son of Intentionally bred at Darby Dan Farm. Barrydown won or placed in seven stakes, including victories in the Los Robles and Spokane Handicaps while running for Maurice and Kathleen Hitchcock's White Swan Stable in the early 1970s. The $147,685 earner was conditioned by Washington Racing Hall of Fame trainer Jim Penney.(In fact, many state Hall of Famers would have an impact on Saratoga Passage's career.)
As a yearling, Loridown had first gone through the WTBA sales ring when, consigned by White River Farm, Rainier Stables, agent, she had been purchased for $6,500 by Jack McCann. The McCanns named the filly in honor of their daughter, but unfortunately she never ran after developing respiratory problems serious enough to send her to the veterinary college at Washington State University.
Out of Washington champion three-year-old filly Sherri Ruler, Loridown was a half-sister to the good Washington stakes mare Louise's Pride. This is also the family of Washington champion and local favorite racemare Silky Steel, whose descendants would later add their share of state championships to the female line.
Loridown foaled a Family Physician colt the following spring and she was then sent to nearby Wildwood Farm to be bred to stakes winner Pirateer, in whom the Becks had a share.
From the first crop of the great European star Roberto, Pirateer also became his initial stakes winner after taking the To Market Stakes at Hawthorne as a juvenile. Stakes-placed at three and four at Keystone (now Philadelphia Park) and Penn National, Pirateer won seven of his 43 starts and placed in another 11 of his outings, earning $108,483, before retiring to stud at the Bill and Barbara Blacks' nursery in 1981 for a fee of $2,500.
Loridown's first offspring by Pirateer was named Pirate's Marque. He won two races at two and earned $8,785. Her second was Saratoga Passage. Loridown would later produce eight more foals, including $280,894 four-time stakes winner Diglett, by Alnaab; stakes-placed Cape Flattery, by Ruhlmann; and winner Misty Down, a daughter of Handsome One who would produce Washington champion juvenile filly Candles n Moonlite, stakes winner Cromarty Bay, stakes-placed Taylor James and two other winners. (Note: For further information on this illustrious family see Ellen Parker's profile on *Grillette, from whom these many topflight runners stem, in the May 2004 issue of the Washington Thoroughbred.)
A Racing Heritage
Helen grew up in the horse industry. Her father George Cromar had bred, raised and trained horses, racing from Washington to Oregon to Montana to Mexico until his death at age 57 in 1961. His brother Jim had served as his assistant trainer. Helen and her sister Louise walked hots around the manure piles as teenagers.
Melvin was born in Nebraska, but has spent most of his life living in Oregon and Washington.
The Sunnygrand Rodeo Grounds used to lie between Sunnyside and Grandview in central Washington. One of its features was a half-mile dirt track. As a young man Beck ponied racehorses for local Thoroughbred trainers before they headed off to Portland Meadows. He was dating Helen at the time, and also galloped a few head for his future father-in-law.
Beck joined the Navy in 1952 and spent his first 10 years in the enlisted ranks. He was then commissioned as an officer, retiring as a Navy commander in 1982 after spending most of his 30 years and four months of service in naval aviation.
The Becks raised four children: Robert, Dona, Michael and Jeffrey; have six grandchildren and two great-grandchildren. They will be celebrating 53 years of marriage in September.
Room with a View
Loridown foaled her future champion in early February of 1985 at the Becks' Crescent Harbor Farm, located on the north end of Whidbey Island and only a glance away from the waterway called Saratoga Passage, which separates Whidbey from Camano Island. Helen nicknamed the strapping chestnut foal Sam because "he tore around the paddocks like a surface-to-air missile."
Saratoga Passage was sent back to Wildwood Farm where he was broken by Chris Dryden in the fall of his yearling year. After which he was moved to Bridle Trails in Bellevue for a month, and then on to Reber Ranch in Kent to prepare for his debut at Longacres.
The Becks had decided to employ Northwest Orient Airlines pilot Robert Leonard, who had been moonlighting as a successful trainer for over 20 years, after he had visited their farm to look at another horse. Leonard was known for using different methods and had a reputation for conditioning horses who liked to run a route of ground.
"I'm halfway, maybe, between interval training and regular training," Leonard remarked during Saratoga Passage's early career. He further shared his philosophy: "You have to get so much work into them in order to make them a whole horse, to make them fit, that it requires many miles under them."
The Becks had formed a partnership to race their steadily growing racehorse. Saratoga I Stable was a syndicate formed of owners from Whidbey Island. In addition to the Becks, the syndicate was composed of plumber Ed Taylor and his wife Barbara; John and Gloria Ratcliff, who owned electronic stores; retired Navy commander Michael Reilly; Carrie Gordon, wife of another Navy commander; optometrist Bruce Platt; Ed Cabrian, who was involved in selling real estate; and Jerry Ansuini, who made his living in insurance. Only the Taylors and Ansuini had any previous experience in racehorse ownership.
Handsome . . . and Big
Saratoga Passage made his auspicious debut on August 21, 1987 in a six furlong maiden special weight race at Longacres, running fourth with Vicky Aragon (Baze) in the irons. The race had proven eventful for the first-time starter, as after clipping heels, he and Aragon were almost knocked over the rail, twice. The young rider had been the leading jockey at the Renton track in 1986 and would lead the way in wins again in 1988. Thirteen days later the now 16.3 hand gelding was second in his next attempt, again a six furlong maiden allowance race, and Joey Steiner had enthusiastically picked up the mount. It would mark the last time he would start in a race under a mile.
Next up on the runner's dance card was the $30,000 Tukwila Stakes at eight furlongs. Coming from off the pace, Saratoga Passage was a convincing three-length winner over Thank You Quaker in the September 13 race. Trainer Leonard was out of town for the colt's maiden victory, working his "day job" as a pilot, but had called Steiner from Hawaii that morning with instructions.
Steiner said after the victory, "He's a real big horse and he took to the distance very well."
After he ran second by two lengths to Nohawbee in the $105,240 Longacres Lads Stakes at 1 1/16 miles, Saratoga Passage was among 14 runners which entered the starting gate for the $156,300 Joe Gottstein Futurity on October 11. Leonard decided to put blinkers on the gelding for the 8 1/2 furlong stakes.
"We wanted him to focus his attention on what's going on in front of him," said the trainer. "He pays too much attention to what's happening beside him."
The new equipment helped the Saratoga I colorbearer focus on the business at hand, as he pulled away from his challengers to take the 47th running of the Gottstein by five lengths after circling the field from the back of the pack in a quick 22 seconds flat second quarter mile.
In spite of his record of two wins and two seconds in five starts, he lost meet honors as best two-year-old runner to Nohawbee, who had defeated him twice and didn't run in the Gottstein. Sam's revenge would only be one race away.
From Firs to Pines
Raised among the stately Evergreen fir trees of Washington, Saratoga Passage proceeded to set sail for the pines of California – the Norfolk pines.
Before Saratoga Passage had even emerged victorious in the Gottstein (which the Becks were confident he would win), the Oak Harbor couple had been scouring sources to find a race for later that fall for their future stable champion. After looking at past winners, race times, etc., they zeroed in on the Norfolk Stakes-G1, but they elected not to tell their plans to anyone except friend Ken Jones. Owner, breeder, trainer Jones (who was later responsible for 1987 Washington horse of the year Gallant Sailor) had happened to drop by on the night the Becks made their decision, and he agreed the Norfolk was the appropriate next race for Sam. Beck told Leonard of the plan as Saratoga Passage was on his way to the paddock for the Gottstein.
The 18th running of the grade one Norfolk Stakes for two-year-olds was to be held on October 31 during the Oak Tree meeting at Santa Anita. The Saratoga I Stable had to pay a $10,000 supplement for their star runner to get into the 1 1/16 miles stakes. And then he almost didn't compete.
The fall rains had hit southern California. A week before the $200,000-added stakes (which grossed $301,900), the big chestnut gelding had worked in 1:06 and "appeared to be unable to handle the going," said Leonard, and by the Halloween race day the weather had not only not improved, but heavy rains had set in. "Plan B" was put into effect when Leonard added jar caulks to the runner's equipment.
Steiner was once more in the saddle. Favorite Success Express, Jose Santos astride, was first out of the gate, with Purdue King and Washington Hall of Fame rider Gary Stevens right on his heels. The Washington team was meanwhile content to trail five of the six other runners competing for the first furlongs. By the half-mile pole, Saratoga Passage was in fourth place, about seven lengths off leader Success Express. By the three-quarters marker, three lengths separated Saratoga Passage from the lead, and at the head of the stretch that distance had diminished to only one, as he took steady aim on the two front runners. At the sixteenth pole, Saratoga Passage took over the number one spot and drew off to a 2 1/4 length victory in a time of 1:45 over the sloppy track. Purdue King held second by a head over Bold Second.
In a footnote to the finishers of the Norfolk, none of the first three finishers were nominated for the Breeders' Cup Juvenile-G1, but Eugene Klein's fourth place runner Success Express was. The son of Hold Your Peace came away with a 1 3/4 length victory in that Hollywood Park held event.
As noted in an article in the Thoroughbred of California, Saratoga Passage's ability in the mud may have stemmed from 1955 champion two-year-old Nail, who sired his third dam Double Sherry. A son of French-bred *Nirgal, Nail had a serious penchant for off tracks. Among the stakes wins this mudlark scored on an off track were victories in the Futurity and Remsen Stakes, and a win in the Pimlico Futurity, where a heavy snowfall had turned the Maryland track's surface to ankle deep mud.
After his winning effort, Saratoga Passage was turned out at Klein's Del Rayo Racing Stables at Rancho Santa Fe, for a two month vacation before hitting the Triple Crown trail. There he would be in charge of his old friend Chris Dryden, who had moved from breaking yearlings at Wildwood Farm to managing the San Diego area training center.
For his superior efforts, Saratoga Passage was named Washington's champion two-year-old and horse of the year for 1987. On the yearly Experimental Free Handicap, the Saratoga I Stable runner was assigned 120 pounds, six pounds behind champion Forty Niner and seventh among all colts and gelding in his crop.
The Three-year-old Season That Wasn't
After the Norfolk, Las Vegas's Frontier Race and Sports Book had set Saratoga Passage's odds for the 1988 Kentucky Derby-G1 at 15-to-one. There was great excitement among Washington race enthusiasts, as there had never been a Washington-bred runner compete in the May classic.
The January 1988 issue of the Washington Thoroughbred featured an article on dosage, spurred on no doubt by the hope of Saratoga Passage's planned trip to Louisville. Using the stallions then awarded Chef-de-Race status, Saratoga Passage's dosage profile was eight (brilliant) – six (intermediate) – 13 (classic) – one (solid) – zero (professional) points, with a center of distribution of .75 and a dosage index of 2.73.
Saratoga Passage began and ended his sophomore campaign with a sixth place finish in the 1 1/16 miles San Felipe Stakes-G1 on March 20. He was found to have a respiratory infection after the race and put on antibiotics.
Leonard had hoped the infection would be cleared by the April 23 Arkansas Derby-G1. "Arkansas sounds like the perfect place to go, as we are looking for a dust-free location away from the city," said the trainer. But to everyone's dismay, the chestnut runner had encountered a more serious problem. He had developed a stress fracture in his left front cannon bone and the only thing to do was put him on the sidelines and let it heal naturally. He was turned out at Delta Farm, located near San Diego, for seven months.
Ritorna Vincitor! (Return a Conqueror)
When Saratoga Passage returned to the races on February 1, 1989, someone new was saddling the runner. Eclipse Award winning and future National Racing Hall of Fame trainer Robert Frankel was now in charge of the gelding's race career.
The Becks did not think it would be practical for Leonard to train Sam in California with his busy flight schedule, nor did they feel fully confident of being able to find their star performer the right races by long distance. It just came down to a matter of logistics, and so Leonard and Saratoga Passage parted company.
The Becks took their jobs as managing owners very seriously. They flew south to Del Mar to start the interview process after spending hours pouring over trainer statistics. They were determined to go with one of the better and more successful trainers on the competitive southern California circuit.
Jane Dunn, who with her ex-husband had trained a Belmont Stakes-G1 starter and was now the manager of Delta Farm where Saratoga Passage had spent his latest "R & R," had strongly recommended Robert Frankel. Though the brash New Yorker was felt by some to be difficult, Dunn felt they would find him very knowledgeable about not only each individual in his barn, but those in his fellow conditioners' stables as well.
After interviewing several trainers for their runner's four-year-old campaign, both Becks came away enthused about the Frankel operation and Helen had been impressed with the "fire" in Frankel's eyes.
Frankel later remarked, "This is the first time I have ever been interviewed for a job."
The Saratoga I Stable of owners did not find him difficult at all.
Saratoga Passage's four-year-old campaign began with a neck victory in a mile allowance race at Santa Anita. After breaking last in the field of nine, Saratoga Passage, with Eddie Delahoussaye in the irons, came up with a strong effort to pass Gorky just before the wire and win his fourth race in a time of 1:35 3/5 with a 90 speed rating. The Cajun-bred rider would form a partnership with the chestnut gelding in 10 of his final 15 starts, and the only times he would forsake him was when prior commitments had to be served.
One key to the runner was to not over run him. "This is one big horse, but he trains light," said Frankel. "He doesn't need a lot of work."
A month later, Saratoga Passage faced a talented field in the $60,000 Viking Spirit Stakes at Santa Anita, finishing third in the race won by future Santa Anita Handicap-G1 winner Ruhlmann. Saratoga Passage earned a 97 speed rating for his efforts.
On April 2, Saratoga Passage finished third in the nine furlong San Bernardino Handicap-G2, his first effort at the distance. Rider Delahoussaye remarked after the race, "He ran a good race. The others [Ruhlmann and Lively One] just ran faster."
A change of scenery and coasts was on the agenda for the Whidbey Island-foaled runner, as his next start came in the $700,000 Pimlico Special on May 13 at 1 5/16 miles in Maryland. He finished sixth, 7 1/2 lengths behind the winning 1988 champion older male runner Blushing John.
Back in southern California, he ran sixth and last in the $300,000 Californian Stakes-G1 at Hollywood Park on June 4 after Frankel had decided that Delahoussaye needed to have the runner closer to the pace than was his style. He later admitted his tactical error.
Where the Turf (Performer) Meets the Surf
Summer racing in southern California means a journey south to Del Mar and its ocean breezes. There were other changes in the wind for Saratoga Passage, as he was about to make his first official start on the turf. On July 31, the now 17-hands plus gelding took to the turf like a goose does to water, and though the official win margin was only a head for the mile allowance, it was an "eye-catching" victory.
Two weeks later, Frankel's newly switched-to-grass runner faced eight others in the nine furlong Eddie Read Handicap-G1 with its purse of $275,250. Only four pounds separated the field, with favorite Silver Circus assigned a highweight of 118. Saratoga Passage carried 116, including Delahoussaye.
Equipped with blinkers, Saratoga Passage broke slowly and then maintained his usual place at the back of the pack for the early furlongs. At the top of the stretch, he weaved his way through horses and closed with an impressive run to defeat Skip Out Front by 2 1/4 lengths in a time of 1:49 over a firm turf.
To this date, Saratoga Passage is still the only Washington-bred to ever win two grade one events and one of a small handful of top runners nationally that would prove successful over both turf and dirt at a grade one level.
"I was kicking myself for not putting him on the turf before this, but maybe it's for the best," said a jubilant Frankel. "We haven't used him up, and we've got a terrific grass horse here. He's bred for it; he's got the foot for it; and he's got the style for it." The trainer also felt he might be getting a little sore on the dirt.
At the start of the year, Saratoga Passage ranked 10th among Washington-bred earners. After his Read victory, he was number one among all statebreds with $593,712.
After the race, Saratoga Passage's owners and trainer were considering both the Arlington Million-G1 and the Del Mar Invitational-G2 as the next stop for their rejuvenated runner, but the home court advantage won out and Saratoga Passage's next outing was in the September 4 Del Mar race.
The 1 3/8 miles Del Mar Invitational proved to be an exciting, if bit disappointing, outing for the Washington clan. Gary Stevens was chosen to replace Eddie D. aboard Saratoga Passage for the race, as the Cajun had an commitment to ride Bisque in the stakes, who was later ironically scratched the morning of the race due to an injury. In a tight finish, Charles Whittingham-trained Payant (Arg) [Whittingham's 225th stakes winner] rushed up on the outside to pass nine-to-five favorite Saratoga Passage at the wire and win by a head, with the Washington-bred only another head in front of the lone mare, No Review, in the blanket finish. Stevens had kept Saratoga Passage uncharacteristically close to the, albeit slow, pace. At the quarter and half-mile posts he had the chestnut gelding running fourth, only 2 1/2 lengths off the pace at each call. The next two calls (six and eight furlongs) found the runner in the unusual position of second place and Saratoga Passage was the clear leader in the stretch before going down to the narrow loss.
Stevens commented after the race, "I wasn't surprised to be up close with the pace as slow as it was [:48 4/5, 1:13 2/5]. My horse relaxed well and finished good. He was unlucky to lose."
Autumn at Oak Tree
Saratoga Passage returned to Santa Anita for the fall 1989 meeting with his sights set on the 12 furlong Oak Tree Invitational Handicap-G1 on October 14. Eight other top turf runners faced him in the $500,000 event. Favorite among them was Hawkster, who had earlier that year won the Secretariat Stakes-G1 over Arlington Park's turf course. With Delahoussaye back in the saddle, Saratoga Passage put in a solid effort, finishing third behind Hawkster, with Russell Baze up and Pay the Butler, ridden by Gary Stevens. The 2:22 4/5 time established a new world record for the distance. Saratoga Passage earned $60,000 for his efforts, but also came out of the race with another stress fracture. This time it was decided to have surgery performed on the leg. At the same time chips in both front ankles were removed.
"He re-injured himself just enough for us to lay him up for a few months," said Beck. "Frankel said that we should give him four months off, but we have decided to give him six months off," he added.
With such a season, he was most deservedly honored with his second Washington horse of the year title and was named champion handicap horse as well. On the Free Handicap for three-year-old and up male turf runners, Saratoga Passage was given 116 pounds, 10 pounds below champion Steinlein (GB).
1990
Saratoga Passage's name wasn't seen in the entries until the following June, when he was entered in the $75,000 Fiesta Handicap at Hollywood Park. He finished fourth in the 1 1/16 miles turf event, beaten 4 1/2 lengths in his comeback.
Two weeks later, on July 13, the Washington-bred star was extended to 10 furlongs in the $75,000 Jim Murray Stakes, where he again ran fourth, but was beaten just 1 1/2 lengths for all of it. Laffit Pincay, Jr. was aboard Saratoga Passage for both races.
Back for his second try in the Eddie Read, Saratoga Passage could only manage to take fifth money, though beaten only three lengths. Corey Black was along for the ride.
Next up, the Arlington Million-G1. Eleven of the world's greatest turf runners went forward in the 10 furlong stakes run on August 20. Saratoga Passage and rider Pat Day finished eighth, only the fourth time he had finished out of the top five placements.
Returning to Del Mar, and reunited with Delahoussaye, the partners finished third in a 1 1/16 mile turf allowance on September 12. After the race, Delahoussaye came up to Beck and said, "Sorry boss, I messed this one up. We should have won."
With the Oak Tree meet once more looming on the horizon, the Saratoga I Stable runner once again journeyed north for what was to unfortunately be the gallant gelding's final career outing.
leven runners faced the starter for the 22nd running of the Oak Tree Invitational-G1. Saratoga Passage had fellow Washington Racing Hall of Famer Russell Baze astride for the 12 furlong turf race. Saratoga Passage held fifth place until the final call when he closed gamely from the outside to finish third to winner Rial (Arg) and runner-up Eradicate (GB), but he was "pulled up in distress after the finish line." He had bowed the tendon in his left front leg.
"It really was a surprise," related Beck. "He's not had a pimple on him all year long and Russell [Baze] said he was going great down the backstretch and then he moved to the leaders when he kissed to him. When he got them, that's as far as he got. He just hung right there. After a race he usually finishes strong, but this time he pulled himself up right at the wire. They had to van him back to the barn."
It marked the end of an illustrious and exciting race career. The $60,000 he earned for his courageous third place finish vaulted him to $800,212. It's a record no other Washington-bred has yet come close to breaking. But as with all good stories, there's more to this hero's tale.
Paux de Deux
After the injury and convalescing for a period of time at Delta Farm, Saratoga Passage was sent to Wildwood Farm to finish his recovery. In the spring following his injury, horsewoman Jane Hiner visited the farm to check on a nurse mare foal she was considering buying. Jane and her husband, Eric Hiner, had boarded a few Thoroughbred mares at the Blacks' picturesque farm and Jane would sometimes help with the foaling. She had known Sam as a youngster. The avid rider also helped to re-home retired racehorses. While visiting the farm, farm manager Debbie Lang told Jane that the Becks were looking for a special home for their retired champion. After seeing the spark between Jane and Sam, Saratoga I Stable offered Saratoga Passage to Jane and then supported the gelding for a year while he continued to recover from his injured tendon.
The Hiners now live on a six-acre farm in Olympia. Jane and Sam successfully competed in dressage for 10 years, reaching fourth level competition and bringing home many trophies and ribbons.
Today at 20 years of age, the grand gelding is mainly retired to the life of ease. He does occasionally perform in a musical dressage duo (paux de deux – from the ballet term for a dance for two) with another ex-racehorse, but mainly for entertainment and not ribbons.
His pasture buddy is a three-year-old Friesian gelding that Hiner is currently training. They must make quite a striking duo, the big chestnut Thoroughbred gelding and the even larger black warmblood romping together in the field.
Though time has taken its toll, the fire that made Saratoga Passage such a great racehorse and athlete is still there.
He is a wonderful horse named Sam to those who know him best, but to his many fans and admirers Saratoga Passage will always be a racing legend, and just plain spectacular.
Click here for a complete list of all the Washington Hall of Fame inductees.