Enumclaw native led nation's trainers
five times during 1950s
by Kimberly French

n May 5, 1955, at about 4:35 p.m.,  Robert Hyatt "Red" McDaniel should have been on top of the world instead of leaping from the highest span of the San Francisco Bay Bridge.
For the previous five years, the 44-year-old native of Enumclaw, Washington, had collected more victories than any other trainer in North America, was the first conditioner to win more than 200 races in one season and had, just in the previous February, captured one of America's richest races at the time, the $100,000 Santa Anita Handicap, with the Irish-bred *Poona II.
The people closest to him, including his widow Evelyn, never could determine what drove McDaniel to take his own life, and no suicide note was ever recovered.
"McDaniel's suicide stunned California racing circles, like it must have stunned horse people everywhere," wrote Ken Cochranton in the Daily Racing Form the day after McDaniel's death. "Scores of friends had chatted with him earlier in the afternoon and found him as quiet, retiring and smilingly pleasant as usual. They were dumb-founded on hearing the report of his self-destruction – so much so that that they believed this tragic report was an error or canard – until grim confirmation forced its acceptance."
The Early Years
When McDaniel was in early teens, he left his parents' dairy farm to become a jockey. He rode his first winner in 1926 (age 15) at Willows Park, in Victoria, British Columbia, and although he enjoyed moderate success, he was never a top rider like his colleague future (1958) National Racing Hall of Famer Johnny Longden.
After he broke his leg in 1929, McDaniel retired from the saddle. For the next three years he trained a small stable for Vancouver, British Columbia, resident George Slater at Agua Caliente in Mexico. After Slater sold his stable, McDaniel worked as a jockey's agent and as a yearling trainer at Rancho San Luis Rey in California. As an agent, his clients included top rider Noel Richardson, 2002 Hall of Fame inductee Jack Westrope and Red Pollard of Seabiscuit fame.
McDaniel returned to training as a full time job in 1938 and maintained a small stable of mostly cheap claiming horses until the end of World War II. His knowledge of the condition book began to attract an increasing amount of attention around 1946.
Renowned as a "halter man," or someone who primarily races claiming horses, McDaniel was often affectionately referred to as the "Red Raider," because of his red hair and frequent pillaging of everyone else's barns.
McDaniel was known for his remarkable ability to make stakes horses from claiming horses, among his successes were: Stitch Again, who McDaniel claimed for $5,000, earned $97,000 and was beaten a nose by Olhaverry in the 1947 Santa Anita Handicap; Blue Reading, a $6,500 acquisition, who collected over $185,000; and Stranglehold, who bankrolled nearly $275,000 after being claimed by McDaniel for $7,500.
"McDaniel had an uncanny ability to 'improve' his claims," noted racing author and Daily Racing Form columnist Leon Rasmussen told John McEvoy in 1999. "He also had the rare ability to keep his stock going month in and month out without them becoming jaded or track-weary. The man was an outstanding horseman." This was even though McDaniel was "a firm believer in constant racing to keep horses in shape," according to backstretch author Hap O'Connor.
McDaniel's 1953 Record-breaking Year
From 1946 to 1949, William Molter, who triumphed in the 1954 Kentucky Derby with Determine and conditioned 1958 Horse of the Year Round Table, won more races than any other North American trainer and led the continent in purses earned in 1954, 1956, 1958 and 1959.
McDaniel wrested the first of five consecutive training crowns from his close friend and 1960 Hall of Fame inductee when he saddled 156 winners in 1950. Only the legendary Hirsch Jacobs (seven) and H. Guy Bedwell (six) have won more successive titles.
In 1953, he became the first trainer in the world to win more than 200 races in one season, with a final total of 211 victories, and he collected 206 more triumphs the following year.
According to the 1954 The American Racing Manual in their write-up "Records of Leading Trainers," the Arcadia, California-based trainer "campaigned at six California courses during 1953, and was the leading trainer at all of them. He started with 33 wins at Santa Anita, then tacked on, in order, 44 at Tanforan, 22 at Hollywood, 37 at Del Mar, 35 at Golden Gate, 38 at Bay Meadows – where he first smashed fellow Californian William Molter's 184 record mark – then reached and passed the magical 200 figure, and finished the season at Santa Anita, which opened on December 26, with two winners. McDaniel drew a blank only at Agua Caliente where he started but a few horses from his vast public stable."
"The Shoe" Connection
McDaniel credited William Shoemaker as one of the reasons for his rise to prominence. McDaniel had been one of the first to recognize Shoemaker's ability, and Shoemaker did most of his early riding on McDaniel horses.
In 1949, "The Shoe" set a record with 52 wins at the Del Mar meet and became the first apprentice to win that venue's riding title. In 1950, the first year he regularly rode for McDaniel, the 1958 Hall of Fame inductee tied for the most riding wins with 388. 1951 was the only time during their five-year alliance that he did not have the most wins or purse money.
When McDaniel collected a new Del Mar record of 47 victories during one meet in 1954, Shoemaker was in the irons for 42 of them. Nearly five decades later, "Mac's" standard has not been bested.
"If there is any formula to my success," McDaniel once said, "it has been due to studying the conditions of races, running my horses where they belong and riding Willie Shoemaker."
The Hundred Granders
In the 1940s, $100,000 races were a bit of a novelty and only a few tracks had the means to offer stakes races valued at that magnitude. One of those tracks was Santa Anita and it was there that McDaniel trainees earned victories in two of the high-end races.
The first $100,000 success for the McDaniel stable came via Apple Valley in 1954. The California-bred had first served note of his class after coming from far off the pace to win the $15,000 Del Mar Derby. A month into his next season, Apple Valley "skyrocketed himself into stardom" on January 30 after scoring a runaway victory in the Santa Anita Maturity, the richest race in the world for four-year-olds.
After running second in Santa Anita's "Big Cap" in 1947, McDaniel brought a four-horse entry of *Poona II, *Star of the Forest, Ole Travis and James Session – the largest in stakes history – for the 18th running of the renowned 10 furlong stakes in 1955. The best of these being the Irish-bred *Poona II, a son of *Tudor Minstrel raced by Herman H. Helbush, a highly successful building contractor and electronics entrepreneur. *Poona II had begun his four-year-old campaign on January 15 by impressively winning the $25,000 San Fernando Stakes in a world record time of 1:40 4/5 for 1 1/16 miles. Among those runners in his wake were the good Calumet Farm filly Miz Clementine and 1954 Kentucky Derby winner Determine. Less than a month before the San Fernando, *Poona II, who was bred by H. H. Aga Khan and Prince Aly Khan, had set a new American record when taking a 10 furlong allowance race at Santa Anita in 1:47 2/5. The Thoroughbred Record, which featured *Poona II on the cover of their January 29, 1955, issue, called the Irish-bred "probably the most talked about horse on the American turf today . . ."
After *Poona II's five-length tally in the San Fernando, his price in the Caliente future book on the Santa Anita Handicap was cut to two-to-one. Some of his backers fell off the bandwagon after *Poona II finished a lagging fifth in the nine furlong San Antonio Handicap, run just three weeks before Santa Anita's marquee race, but on February 26, *Poona II, with Shoemaker aboard for another flawless ride, scored a one length victory in the $104,300 Santa Anita Handicap before a crowd of 52,500.
Robert Hebert wrote in the March 5, 1955, issue of The Blood-Horse "there was genuine admiration in the slight trainer's voice whenever he mentioned *Poona II," who many were wondering if he was as good as fellow import *Noor, who had been the nemesis of Citation. McDaniel would later openly declare that *Poona II was the best horse he had ever handled. After the race, McDaniel and Helbush announced one big objective for their record breaker, the $65,000 Washington, D.C., International at Laurel in November. Unfortunately, that was not to be.
Questions Unanswered
Even though he was well-liked and respected by the majority of his peers, McDaniel certainly was not immune to malicious gossip. Stories of various illegal (drug) concoctions from foreign countries frequently traveled throughout the backside, but no proof of wrong-doing ever surfaced.
"Magic drugs," Robert L. Baird, a former jockey and father of 2008 Kentucky Derby partici-pant E. T. Baird, told McEvoy. "What a bunch of baloney! He was one of the most watched guys in California racing. And he just kept getting better, winning more races and improving his stock each year."
When McDaniel tumbled to his death, he operated the largest public stable in North America and was getting $10 per day for each horse in his barns in training fees. His barns housed 68 head, involved 21 different owners, employed 38 men and possessed a $125,000 payroll. It cost him more than $600 a day just to maintain his stable.
Financial concerns, however, were not an issue. During his career, McDaniel won more than 1,100 races and $4 million dollars and was in the process of purchasing financial stock in Bay Meadows and Golden Gate Fields.
He was known on the backside as a "loner," but never had a problem handing out money to those in need.
"Don't worry about when you can pay it back," he was known to say. "You probably need it more than I do."
After McDaniel's shocking suicide, people close to him began to examine his behavior for clues and admitted there may have been some warning signs.
Diagnosed with bleeding stomach ulcers, he was ill throughout nearly all of 1955 and although McDaniel rarely drank alcohol because it aggravated his condition, his consumption increased throughout the months preceding his demise.
On the day he died, McDaniel wanted two of his staff members to deliver a large amount of money he had on his person to his wife Evelyn at their home in San Mateo. When one of the employees offered to take McDaniel home after the races so he could perform his transaction privately, the trainer revealed he did not intend to go home.
Immediately after he hoisted Ralph Neves (1960 National and 2003 Washington Racing Hall of Fame inductee) into Aptos' saddle for the sixth race, McDaniel left the paddock for the final time and guided his 1954 Cadillac to the tallest segment of the Bay Bridge. He parked in the outside lane, moved resolutely to the railing and roughly 15 minutes after Aptos won his race, hurled himself over.
1982 Hall of Fame trainer W.J. "Buddy" Hirsch was one of three men who were privy to McDaniel's final moments. Jacobs told Baird he recognized his fellow horseman, but had no time to derail McDaniel's plan because he "moved so fast, we didn't have a chance."
His body was recovered by the United States Coast Guard nearly 25 minutes later and when the police searched his car, they found his wallet along with $3,000 of uncashed mutual tickets in the front seat. More than 50 years later, the reason R. H. McDaniel decided to leave this world remains unidentified. The stress of working from dusk to dawn every day for almost four decades could have finally taken its toll, but the only one who knows for certain is the horseman himself, and he's certainly not talking.
In addition to his widow, McDaniel left two young children; son, Terry Lee, 5, and daughter, Carole Ann, 4.
"It will never be known what caused McDaniel to end his own life at a time when, apparently, he had everything to live for," wrote Jack Shettlesworth on May 28, 1955. "Somewhere in the Book which establishes the universal code under which men live in close society, it says: 'Judge not lest ye be judged.' So be it."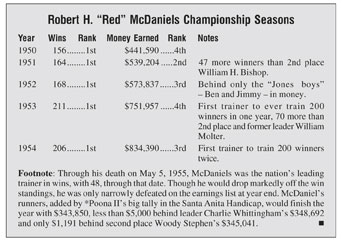 Pennsylvania resident Kimberly French is a freelance writer whose work has appeared in Thoroughbred, Standardbred and Quarter Horse publications. She also freelances as a production assistant for ESPN's horseracing broadcasts.
Click here for a complete list of all the Washington Hall of Fame inductees.