Eastern Washington native won four Triple Crown races
by Bill Heller

ore than 2,500 miles separate Spokane, Washington, from Saratoga Springs in upstate New York, but it's a trip anyone can make. The journey from grooming horses at Playfair Race Course to becoming enshrined as a jockey at the Hall of Fame in Saratoga? Only one man completed that voyage: Albert Johnson.
He never knew he'd made it. He was inducted five years after his death in 1966 when he was struck by a train two months before his 66th birthday. Long before, he was at peace with his accomplishments in a brief, yet spectacular, riding career from 1917-1929. He became just the fifth rider to win two Kentucky Derbies; won two consecutive Belmont Stakes; led the nation in earnings; piloted one of the true great horses of his era, Exterminator; and captured five stakes at Saratoga Race Course.
When a battle with weight proved too burdensome, he continued a lifetime in racing, training horses for clients as famous as Bing Crosby, a singer from Spokane you might have heard of, then serving as a patrol judge and track official.
Yet he seldom talked about his success. "Some people are great in their field, but he was a great person," said Nancy Mengert, the wife of Johnson's nephew Richard Mengert, in early May. "You would never hear him talk about himself. He never lived in the past. He always said, `What's next?' He always looked forward to the next thing."
At 16, he looked forward to a life at the racetrack. He was born on November 18, 1900, in Milan, a rural community 25 miles northeast of Spokane along the Burlington Northern Railroad.
"The only time I ever heard him talk about himself was how scared he was when he left home alone when he was 16," Mengert said.
Johnson began working at Playfair as a stablehand, then graduated to exercise rider at Spokane Interstate Fair meets. He began riding in races as an apprentice when he was 16 and his enormous natural talent quickly surfaced. Just six years later, he led the nation in earnings.
After riding several races at Spokane in 1916, he went to Tijuana, Mexico, where he won his first race on Col. Matt for his contract employer Stuart Polk, a man he described as "a fine horseman, a good teacher," in John Nachel's 1953 article in the Hollywood Park Issue. One afternoon at Tanforan, before he gave Johnson a leg up on Pretty Polly, Polk told Johnson, "The only way this mare can lose is if she drops dead." The horse broke on top, led for an eighth of a mile and then dropped dead.
His First Great Horse
Regardless, Johnson was the leading rider at Oaklawn Park, Pimlico, Bowie, Thornecliffe and Woodbine. In 1918, his contract was purchased by John Rosseter, a San Francisco millionaire, for what was then an incredible amount of money: $15,000.
In Nachel's article, Johnson credited Rosseter for giving him his "first chance to ride a truly great horse."
That horse was Inchcape. After winning an allowance race in his debut, Inchcape won the 1920 Tremont, a 5 1/2 furlong stakes for two-year-olds at Belmont Park, in 1:12, a full second faster than Man o' War's winning time the year before. "Though he was never out of low gear, he won both races by a city block," Johnson told Nachel. "If I called on him for his best I honestly believe he could have broken all existing records."
We'll never know. Inchcape had problems with his legs. Regardless, after he won his three-year-old debut, Inchcape was purchased by Harry Sinclair for $160,000. Sinclair decided to rest his new horse until the fall, but a week after Inchcape was sent to Sinclair's farm in New Jersey, a fire swept the farm and took Inchcape's life.
"Though his career was cut short, giving him no chance to prove his greatness, I'll always believe Inchcape could beat any horse that ever looked through a bridle," Johnson told Nachel.
Johnson would ride many other top horses. But he would include Inchcape as one of the top four horses he ever rode, along with Morvich, Bubbling Over and Exterminator.
Morvich and Exterminator
Morvich won 12 of 16 starts, including the 1922 Kentucky Derby. That was four years after Hall of Famer Willie Knapp rode Exterminator to win the Derby. Johnson would get on Exterminator for the first time on May 14, 1921, when he finished second by a length in the Excelsior Handicap at Jamaica, a long defunct track in New York.
Morvich was a brilliant two-year-old before Johnson ever got on him. Bred by sugar baron Adolph Spreckels and trained by C.W. Carroll, Morvich won his debut in the Suffolk Selling Stakes by 10 lengths at 30-to-one and was promptly sold to trainer Fred Burlew. After Morvich won two more races easily, Burlew sold a half-interest in Morvich to Wall Street financier Benjamin Block.
Morvich improved his record to six-for-six, and Block bought out Burlew's interest. Morvich was shipped to Saratoga to make his stakes debut in the United States Hotel Stakes on August 6, 1921. Morvich won that stakes and the Saratoga Special and then received a jockey change to Albert Johnson for Saratoga's prestigious Hopeful Stakes. Morvich won by two lengths carrying 130 pounds.
Morvich added the Eastern Shore Handicap and the Pimlico Futurity at a mile an a half, racing from off the pace for the first time. He had finished his juvenile season 11-for-11 with earnings topping $115,000.
The Kentucky Derby at Churchill Downs and the Preakness Stakes at Pimlico were scheduled for the same day in 1922. Block chose the Derby and Johnson got his first Derby winner by a length and a half. "He set all his own pace and won as he pleased," Johnson told Nachel.
Morvich never won again, losing his final four starts.
Exterminator's career was considerably longer. Popularly known as "Old Bones," the chestnut gelding won 50 of his 100 starts, with 17 seconds and 17 thirds and earnings of more than $250,000. He was champion handicap horse four consecutive years from 1919 to 1922. Johnson became Exterminator's rider after he signed a contract with his owner, Willie Sharp Kilmer. Col. E.R. Bradley took Johnson's second call.
A great weight carrier decades before five-time horse of the year Kelso and three-time horse of the year Forego, Exterminator won stakes at distances from six furlongs to 2 1/4 miles. He carried 130 pounds or more 35 times. In the mile-and-a-half Independence Handicap at Latonia on July 4, 1922, Exterminator raced with 140 pounds. He went off the nine-to-10 favorite, but finished sixth in the field of eight and "appeared in distress after a mile," according to the Daily Racing Form book, "Champions."
Johnson, one of 18 jockeys who rode "Old Bones," took care of his horse that day and Exterminator returned to racing less than a month later at Saratoga, where he finished fifth in the Saratoga Handicap to Grey Leg – while carrying 137 pounds, seven more than the winner – and then captured the Saratoga Cup by a nose under 126 pounds. Johnson rode Exter-minator 27 times, more than any of his other jockeys, including 19 straight. Exterminator carried Johnson to the winner's circle 15 times.
From November 21, 1921, to June 16, 1922, Johnson, except for a nose second in the Philadelphia Handicap, would have ridden Exterminator to a nine-race winning streak. Among the races he won on the great champion were the 1921 Long Beach and Pimlico Cup Handicaps, 1922 Harford, Pimlico Spring, Clark, Kentucky, Brooklyn, Toronto Autumn and Laurel Handicaps and Saratoga Cup. The Laurel would mark his final stakes win aboard the then seven-year-old gelding.
Exterminator was special. "Bones wasn't a pretty horse," Johnson told Nachel. "He wasn't even good looking. But for courage and honesty he never had an equal. He was ridden by everyone, trained by anybody and beat everybody. Track conditions meant nothing to him. Through a plowed field or down a paved highway, the horse never lived that could withstand the belated rush of Exterminator when he made his move!"
Colonel E.R. Bradley
In 1925, Johnson rode one season for Samuel Riddle's Glen Riddle Farm. The following year, Bradley signed Johnson to ride for his Idle Hour Stock Farm. Johnson was riding for men who would become legends in Thoroughbred racing, and he took full advantage, winning stakes all over the country. Johnson cherished his relationship with Bradley. "It is my honest opinion that Col. Bradley was the best thing that ever happened to the racetrack," he said in Nachel's article. "He pioneered the idea of installing up-to-date bathing facilities for the men in the stable area." Bradley provided comfortable living quarters, game rooms and entertainment. In his own private kitchen, his employees were fed like kings. No one simply held a job with Bradley. Rather, they enjoyed the privilege of working for him.
"Bradley seemed to have a genius for combining the right bloodlines. Year in and year out he produced stock of the highest caliber. Kind, considerate, generous to a fault, this man was more than just a good winner. Taking his losses right in his stride, he'd be the first to congratulate you for beating him with a better horse. A true sportsman, a great guy. It's an honor to have my name associated with his."
Family
Actually, it was an honor to be associated with Johnson's name, even when they got his name wrong. Johnson's sister, Helen, who worked at the Washington Water Power Company in Spokane, was an accomplished amateur jockey herself. At 18, after winning her third consecutive women's six-day relay race at the Interstate Fair, she was highlighted in a newspaper story. Asked when she started riding, she replied, "In fact, I was so young when Alfred (sic) placed me upon my first horse that I cannot remember just when it was." Alfred, of course, was Albert. Another woman in his life, his wife Isabel, ran the Santa Anita Flower Shop in Arcadia. They had one daughter, Mrs. Patricia Wiggs, who lives in California.
Al Mengert, Richard's younger brother who was named in honor of his famous uncle, is also a talented sportsman. He belongs to another Hall of Fame, the Pacific Northwest Golf Association Hall of Fame. The noted golfer was twice U.S. Jaycees Junior Champion (1946 and 1947), which was then regarded as America's national junior championship, and also held the title of Mexican Amateur Champion in 1952 among his many titles.
Family was important to Johnson, and the accomplished rider never forgot his humble beginnings. "There's a red barn still standing by his home," Nancy Mengert said. "That was a gift from Albert to his family in Milan."
When he visited his nephew Richard's family, he'd share countless stories of life on the road. "He told us stories about when Al Capone came to the track in Chicago," Nancy said. "He stayed with us off and on. One time, he was with us for most of the fall in 1953. He always laughed. He played with the kids. Out kids were thrilled with him. He loved to get up early and hit the nearby streams. He was a great little fisherman. He'd cook dinner. He'd say, `Nancy, do you mind if I cook the trout?' I was happy. I didn't know how to cook them. His sister Helen was a sweetheart, too."
The Triple Crown
It's unlikely that any of Johnson's contemporaries thought of him as a sweet- heart on the track. Johnson's competition as a jockey in the 1920s included Hall of Famers Earl Sande, Jimmy Butwell, Frank Coltiletti, Buddy Ensor, Clarence Kummer, Pony McAtee and Ivan Parke.
Johnson was on one of the horses Sande beat when he won his first race on January 21, 1918, at the Fair Grounds while riding Prince S. Sande will be forever linked to 1930 Triple Crown champion Gallant Fox, one of Sande's five Belmont Stakes winners and one of his three Kentucky Derby victors.
Johnson made history by riding back-to-back Belmont Stakes winners, both on sons of Man o' War owned by Riddle: American Flag in 1925 and Crusader the following year. Through 2006, only 10 other riders have scored consecutive wins in the grueling mile and a half final leg of the Triple Crown.
Johnson didn't win the middle jewel of the Triple Crown, the Preakness. His best finishes were fourths on Dress Parade in 1926 and on The Nut in 1929. He did, however, ride in the first Triple Crown race of the first Triple Crown winner, Sir Barton (ninth aboard Drummond).
Johnson finished second in the 1924 Kentucky Derby on Chilhowee to Black Gold, and then scored his second Derby victory in 1926 aboard Bubbling Over for Bradley by five lengths. "At that time, Bradley had three outstanding colts, Bubbling Over, Boot to Boot and Bagen Baggage," Johnson told Nachel.
"We finished one-two with Bubbling Over and Bagen Baggage in the Kentucky Derby, then won the American Derby with Boot to Boot. Though the others were fine colts, I've got to classify Bubbling Over as the best of the three. He was absolute tops. At no time was I beaten on this horse." Bubbling Over retired undefeated in his three starts.
In the 133-year history of the Derby, only seven riders have been aboard three or more winners of the Kentucky classic and another 15, Johnson included, have scored a Derby double.
A Trip to Europe
Like many top jockeys before and after him, Johnson would be beaten by weight. When he could no longer keep his weight down without endangering his health, he signed a contract with Jefferson Cohn of Paris, France, to ride his steeplechase horses.  It didn't take, and Johnson quickly returned to the United States.
Change of Jobs
He gave riding one more shot in the summer of 1929, but making weight sapped the energy he needed to perform at the top level of racing. Feeling that he hadn't given his best performance on Sun Beau in the Hawthorne Handicap, he hung up his tack permanently with 503 wins from 3,199 mounts, an excellent win percentage of 15.7. But he never surrendered his love of the game, and he tried making the difficult transition from jockey to trainer.
Bing Crosby believed his boyhood pal would succeed, and Johnson trained for Crosby and his partner Lin Howard's Binglin Stables for several years, beginning in 1935. Their best horses were Rocco, High Strike and Sweet Laeloni.
During World War II, many racetracks closed and many owners, including Crosby, got out of the game. Johnson gave up training, becoming a patrol judge and clocker in California and Washington. Johnson received many offers to train horses again, but declined. He told Nachel, "I'm happy this way. Working as a patrol judge. I'm closer to the thing I love most – race riding. From my observation tower, I watch the boys ride every race. I see their good points, as well as their bad. I enjoy their successes, sympathize with their failures. When I find I can help a jock overcome a fault, correct a mistake, or in any way let them benefit from my experience, I feel as I've really accomplished something."
An Untimely End
He'd accomplished enough to be inducted into the Inland Empire Hall of Fame in 1965. A year later, he was walking back to his stable. "He was walking back to the stable and he was walking alone," Nancy Mengert said. "He was becoming pretty deaf in one of his ears. This train caught him coming around the bend. It broke my husband's heart. He cried for weeks. He was a great fella. Never did I hear him say a derogatory word against another jockey or a trainer."
Before his tragic accident, Johnson, who was inducted into the Washington Racing Hall of Fame last September, had shared with Nancy the simple truth which propelled him to become one of the greatest jockeys ever: "He said, `I always promised my owners that whatever horse I rode, I'd give it my best.' And he did."
Eclipse Award winning writer and noted harness racing author Bill Heller lives in Albany, New York, with his wife Anne and son Benjamin, but has ties to Washington State as his mother, Sylvia Silverstein Heller, was born in Spokane.
Albert Johnson on Morvich and
the 1922 Kentucky Derby

ere we quote Albert Johnson, whom the racing world recognizes as one of America's greatest jockeys of all time: "Morvich, after that 30-to-one win at Jamaica, went on winning.
"I joined them [owners Benjamin Block and Fred Burlew] out before the Hopeful, Saratoga's classic. They signed me to ride Morvich. Frankie Keogh rode him before that.
"The colt won the Hopeful for me. Easy. He electrified racing. All they talked about was Morvich, the California colt. They called him another Man o' War. Unlucky for the owners, [breeder A.B.] Spreckels didn't name Morvich for the Belmont Futurity. Didn't suppose him that good. So we missed that, going down to Maryland, where I rode him in the Eastern Shore, a big race. We won that. And we won the Pimlico Futurity. Just a romp."
They retired Morvich for the year, unbeaten, winner of 11 straight races. And they put him in the Kentucky Derby, where he immediately became winter book favorite.
Albert Johnson paid high testimonial to the training feat accomplished by Fred Burlew, praise reaching infinity. "Best training job I ever heard of…," he insisted.
"You see, Mr. Burlew trained horses in England and in France. He advocated slow distance works, yet retained speed. A horse would be fit when Burlew called on him.
"Well, Morvich wintered on the Jamaica track, in Long Island snow. They housed him in a big glass barn. He didn't grow much. When they took him up in January, I saw him, walking and warming up in that enclosed stable. They told me then they intended to run him in the Derby, and the mount was mine. They decided to avoid all races before Derby Day, concentrating on that event. I felt sure they felt he might have trouble going a mile and a quarter. I felt the same way. At a mile, or up to a mile and a quarter – that would be a long haul for Morvich, a sprinting type.
"On a trainer this was a terrible strain. Never beaten, this horse Morvich. No prep race. Public favorite. Hard spot for Fred Burlew. Liked to worry him sick. He seemed to age 10 years.
"When the weather broke we took Morvich to the track. Started him on short breezes, long slow gallops. Nothing at speed more than three-eighths. Sharpeners. One morning we brought Linus McAtee, a light rider, over and sent the colt a mile, still hard held. I wasn't quite fit and had a cold.
"Two weeks before the Derby, Burlew shipped Morvich to Churchill Downs. The three-eighths sharpeners were continued. Kept him legged up. Then a slow mile and eighth . . . farthest he'd been at any time."
"This brings us to Derby Day [and Johnson's first ride in the classic]," continued Albert.
"I didn't underrate my great responsibility. They'd bet heavily all winter on Morvich – real big money. Plunged is the proper word…far more money than normal.
"I took him to the front. We won wire-to-wire.
"Morvich never won another race."
[The chart of the Derby states: "Morvich ran as if he outclassed the others, was kept in the lead under hard restraint for the first mile and drew away in the stretch to win by a pull." The final time was a slow 2:04 3/5. Morvich would start four more times and finish with two seconds and a third, earning $172,909 in all.]
(Reprinted from the May 1951 issue of The Washington Horse in an article written by Jolly Roger.)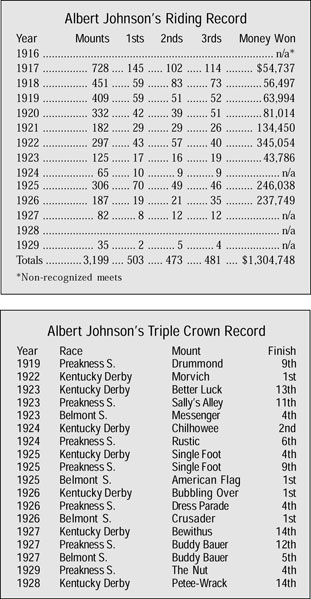 Click here for a complete list of all the Washington Hall of Fame inductees.