Dedication, integrity and horsemanship
by Susan van Dyke

uy Roberts is a man who has earned the respect of his peers and fellow horsemen throughout his long association with Thoroughbreds and the racing community. He and his wife Barbara have bred three state champions and a host of other stakes winners, led the Washington breeder rankings for seven years, stood some of the top stallions in the state at their farm in Sunnyside, besides raising five children and running a busy and successful agricultural business. Guy has served as the president of the WTBA (1979), has been board member of the association since 1973. He is also a former Washington Horse Racing commissioner.
During the 10 years in which the WTBA honored a "Breeder" and "Owner of the Month," the Roberts were the only persons honored (as breeder) during each year of the decade long program.
A now 42-year member of the WTBA, Guy Roberts is only one of 14 distinguished Washington horsemen honored with the S. J. Agnew Special Achievement Award (2002) since its inception in 1980.
Family Ties
Guy's father, Joe Roberts, had immigrated from Nova Scotia to the small agricultural community of Prosser, not far from Horse Heaven Hills, where he was a wheat farmer and also had fruit orchards. (Today, the area is among the most prominent in Washington's wine growing industry.) A widower with two young sons, Joe advertised in the Spokane paper for a housekeeper to take care of his boys. Rachel Kincaide, a widow with one young son, answered the advertisement. Later, they married and had four children of their own: Mona, Wayne (who would become a Baptist church minister), Boyd and finally Guy, who was born on September 30, 1928.
When Guy was three, the family moved to Sunnyside where they raised asparagus, alfalfa and had a few milk cows. His initial equine experience came through the family's half-Shetland pony, Tony.
During his eighth grade year at school, a friend came out and implored Guy to check out the new girl in the seventh grade class. He raced across the playground and peaked in the school window and it was then he had his first glance of his future wife, Barbara Andrus, who had just moved to town from the Milton-Freewater, OR area (just south of Walla Walla). They began dating in high school.
During his senior year at Sunnyside High School, Guy left school to join the U.S. Coast Guard for what was supposed to be a two-year hitch. After being stationed in Hawaii and San Diego, the Department of the Treasury, under whose jurisdiction the Coast Guard operated, ran out of money and offered early "retirement" to some of their enlistees. So, after serving 1 1/2 years, Guy returned home to Sunnyside and earned his GED equivalent.
He and Barbara were married on August 30, 1948. Both attended college at Washington State College in Pullman, but other horizons beckoned. Guy left college to work for the John Deere tractor dealer in Sunnyside for five years. He then joined his father-in-law Leroy N. "Bus" Andrus in the Andrus and Funk Produce Company in 1959. When Andrus and Funk split up not soon afterwards, with the Funks moving to Spokane, the Andruses, et al., stayed in Sunnyside (the asparagus capitol of the Northwest) to run the fruit and vegetable packing house where today they handle fresh packed asparagus and potatoes as their main products. Guy and Barbara's son Chad now runs the packing plant, while their other son Scott oversees the orchards. Apples from the family's approximately 500 acres of orchards are also processed at the plant. The Roberts also raise a few cherries and pears, but send them elsewhere to be processed.
Kids and Horses
The Roberts also had three daughters: Diana, Pam and Cindy. "All three of the girls were horse crazy, and the two boys still aren't," says Guy.
The Roberts family's first horses weren't purchased for the kids to ride, but to provide Guy with transportation while he was elk hunting. That event led to getting horses for the kids' entertainment. From Quarter Horse riding and show mounts, Guy progressed to Quarter Horse racing. The first stallion the Roberts ever stood was quite coincidently a Quarter Horse named Guybar.
Later, all three of the girls raised yearlings through the then WHBA 4-H broodmare program. With the success of the girls' sales yearlings, Guy decided to switch from racing Quarter Horses to racing Thoroughbreds. Daughter Diana had raised a Rare Rice colt from 1965 Washington broodmare of the year The Plume. That colt topped the 1966 WHBA yearling sale after Glen Williams went to $7,300 to obtain the half-brother to champion Jim's Purchase for Herman Sarkowsky.
Bus Andrus also fell in love with the Thoroughbred game. "He loved racing, horses and gambling," remembered Guy. Bill McMeans trained Andrus' Emerald Stables' runners.
Guy and Barbara's oldest daughter Diana married Mike Hopper, now deceased. They had two children: Michelle, the mother of their first grandchildren, Cassidy and Colton; and Seth, a calf roper on the Professional Rodeo Circuit.
Their second daughter, Pam, who died in 1995, was married to Dick Schoenberg, who has served as the farm's resident veterinarian for many years. They had three children: Christy, who is the mother of sons Ethan and Emmett; Deken and Blake.
Cindy, along with her husband Charlie Hoctor, were active in Thoroughbreds for many years under the banner of their Snipes Mountain Ranch. Today, Cindy continues to help her dad out. They have a daughter, Jodi, who while professionally is a gemologist and goldsmith, still competes in barrel racing.
Scott is unmarried, but younger brother Chad and his wife Amanda have two boys, Alexander and Zack.
Guy and Barbara are the grandparents of eight grandchildren, who range from nine to 30 years of age, and are the great-grand-parents of three boys and two girls.
The Guy Bar operation has always been a family affair, as Barbara keeps the farm's books. "Having the whole family involved has made it fun over the years," says Guy.
In addition to racing, Guy has always been a sports enthusiast. As a young man he played on softball and baseball teams. "I've always liked sports," he commented. He and Barbara were among the original Seattle Seahawk ticket holders and also held season tickets for the WSU football season. They are strong supporters in all their grandkids' sports activities.
The List Goes On
The family farm originally consisted of only 12 acres, but from it came the Sunny- side couple's first winner when on September 21, 1968, at Playfair, the two-year-old *Classowa filly Fleet Yetta broke her maiden. Their initial stakes winner followed in 1971 when Vitation (Vitality—Ky. Bounce) won the second divi-sion of the July 5 Mary Broderick Stakes at Longacres by 4 1/2 lengths after having taken her initial outing by seven lengths. Today, 95 acres are devoted to the horses.
Bus Andrus later developed a Thoroughbred training center, "about a mile down the highway" from the family packing plant. It was WHRC-certified for workouts, had a half-mile track and 40 stalls. Trainer Bill McMeans was its first occupant and it proved popular with those having runners at Yakima Meadows.
During the many years Guy has had horses in training, he has made a point to support conditioners from his side of the mountains. "So far, I've only used eastern Washington trainers," said Guy. Among them have been Tim McCanna and Larry Wolf.
Roberts has a reputation for being a good owner to train for.
"He's easy to work for," said McCanna. "He turns it all over to you. Because of his background you don't hurt his feelings when you tell him one of the horses he's raised isn't worth fooling with. He sees the whole picture, brings new people in and is generous." McCanna added.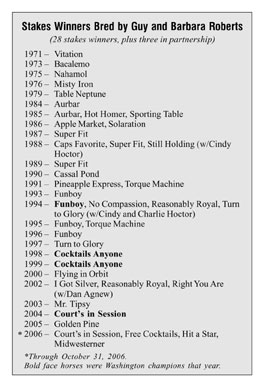 Guy Bar Farm-bred Horses
The Guy Bar Farm sales logo has been seen aside the stalls of many prominent runners and winners throughout the years, as the Roberts have been major consignors to the WTBA sales program, both for the horse they have bred, as well as agenting for clients. Just this past September, six yearlings made up the Guy Bar summer sale consignment, while a baker's dozen were consigned to the 2006 winter sale. While Guy Bar has never topped the summer sale, two offspring of Guy Bar stallion Table Run led all comers in 1979 and 1988, and two colts out of Table Run's champion daughter Got You Runnin' topped the 1990 and 1991 editions of Washington's premiere auction.
Through the end of 2005, five runners bred by the Roberts had earned over $235,000: Funboy ($478,180), Peter's Pond ($256,638), Cocktails Anyone ($242,545), Court Shenanigans ($241,924) and Court's in Session ($239,965). Through October 31, 2006, Court's in Session, who was Washington's only graded stakes winner in 2004, has added a victory and placings in four additional stakes and added another $60,200 to his totals to bring them to $300,165.
Unfortunately, the Roberts never earned any breeder's awards for 1994 Washington sophomore champion Funboy, as his 13 wins, which featured 11 stakes victories – including the $100,000 Canadian Derby-G2 (Can) and the $100,000 Alberta Derby-G2 (Can) – came in Canada from 1993 through 1997. The son of Gumboy did manage to place in four stakes in Washington, including the 1995 Budweiser (Longacres) Mile-G3 run at Yakima Meadows, where he finished a nose behind winner L.J. Express.
Three-time Washington champion Cocktails Anyone, a daughter of Petersburg, raced in the Roberts' red, yellow and green silks. Her first foal, Free Cocktails, won the $15,000 added No Giveaway Starter Handicap on Emerald Downs' 2006 closing day card.
The Roberts' record as breeders first went over the $100,000 mark in yearly earnings in 1981. After reaching the number five spot in 1985, the couple ranked in the top five among Washington breeders for 20 years. Through the end of 2005, the 1,256 starters the Roberts have bred, not including partners, have won 1,352 races and earned $9,210,404. While they may not attain the $10 million figure by the end of 2006, it is sure to come within the next couple of years.
In addition to the many Guy Bar-bred stakes horses they have raised, are those of late longtime clients Wilbur and Marianne Stadelman (champions Table Hands, Any Time Girl, A Little Bit Tipsy, Crystal Run) and Dr. John Furukawa (stakes winners Table Morn, Satin Morn, Rosy Way, etc.)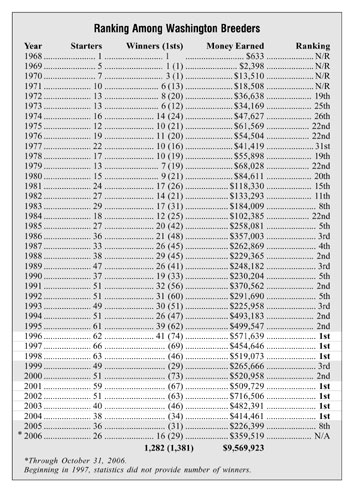 The Stallions
After Guybar, the Roberts' initial Thoroughbred stallion was *Iraan, a 1958 son of *Tudor Minstrel. He was followed by Wilbur Stadelman's *Aurelius II, a stakes winner in both is native Argentina and in the U.S., including a win in the 1966 Longacres Mile, in 1969, and was followed by Dr. John and Lila Furukawa's impressive Longacres Derby winner and future three-time (1981, 1982, 1989) leading Washington sire Table Run and the graded stakes-placed Gummo son, Gumboy. They also stood Aaron Jones-bred Paskanell and Valsetz. Stakes-placed Warfield (a son of Roberto now in Texas) and stakes winner Wakiki Star, a son of Fappiano who stood one season before being sent to New Zealand, also called Guy Bar home at one point. In the mid-90s they gave a chance to their homebred Gotta Choice, a horse with top Washington connections (Knights Choice—Got You), but who had never had a chance to race due to broken a hip.
With Gumboy now retired, Guy Bar stood two stallions in 2006. The highly successful Danzig son Petersburg and the well-bred Mr. Prospector son Ihtimam. Unfortunately, Petersburg was lost just before Christmas. While Ihtimam will continue to stand stud at Guy Bar, daughter Cindy is now in charge of booking the stallion.
Today the Roberts' broodmare band consists of only four mares, led by their homebred state champion Cocktails Anyone. In their heyday, in the early 1990s, the farm owned 35-plus broodmares, stood five stallions and also owned shares in a few Kentucky stallions. They also have bred to stallions standing in California.
Other Hats
During the transitory years between the closing of Longacres and the opening of Emerald Downs, the Roberts sponsored the Guy Bar Handicap during the Emerald Racing Association meetings at Yakima Meadows.
In 1998, Governor Gary Locke appointed Roberts to the Washington Horse Racing Commission. It proved to be a very busy time for the commission as they tried to save racing at Playfair in Spokane. Guy served on the commission until he resigned in 2000. "It was interesting being a commissioner. It was something to do to help," remembered Roberts.
His work ethic, integrity, ability to see the bigger picture, willingness to be involved and to follow his principles have served him, his family, his community and the Washington racing industry well.
"Guy Roberts is truly the most preeminent Thoroughbred horse breeder in Washington State. More importantly, he is one of the most outstanding men I have been privileged to know in my lifetime. Guy is sincere, thoughtful – the consummate gentleman and family man. His years of dedicated service to the Thoroughbred community in our state are unsurpassed. He is truly a wonderful guy."
David Thorner, WTBA president,
fellow Thoroughbred breeder and longtime friend
---
"Guy Roberts is a smart businessman and incredible horseman . . . a man of integrity whose word is his bond. I've owned and bred several horses in partnership with Guy over the years and whatever Guy Roberts said he would do, you could take to the bank. I respect and admire Guy Roberts because he has always been honest and fair in his business dealings with me and everyone else that I know of . . . traits you don't find that often anymore."
Dan Agnew, former WTBA president,
fellow Thoroughbred breeder and longtime friend
---
"Throughout the many years I have known him, Guy Roberts has become a very close personal friend. His integrity and many contributions to the racehorse industry are as varied as they are unparalleled. Not only is he a sportsman in the truest sense, he is one of the true gentlemen of our sport. In the vernacular of our industry – Guy Roberts is a grade one classic winner."
Ralph Vacca,
WTBA general manager and longtime friend
Click here for a complete list of all the Washington Hall of Fame inductees.