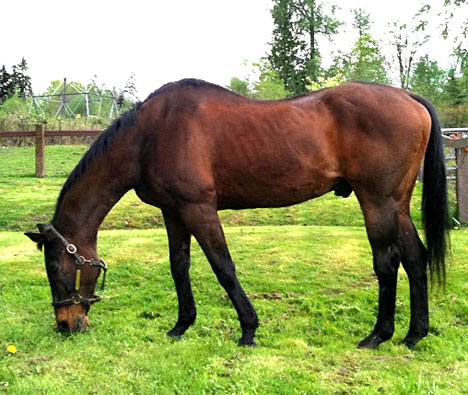 Oldest Living Eclipse Award Winner
Turns 31
Story and photos by John Loftus
When Chinook Pass, the oldest living Eclipse Award winner, marked his 31st birthday recently it wasn't much different than any other day at Jill Hallin's tidy little ranch near Maple Valley, Washington. He had breakfast and was turned out with his small band of running buddies. All of them are at least two decades his junior, but he's still the boss.
There was cake and lots of petting from a few of his closest connections, but no gala celebration like last year, when the 1983 national sprint champion turned the "big three-oh" and scores of admirers filed through to browse his scrapbooks, feel the heft of a real Eclipse Award, and have their picture taken with the charming old track warrior. Accolades came from far and wide, from the Manhattan offices of Breeders Cup Ltd. to Seabiscuit's Ridgewood Ranch.
The jockey that rode him at his peak of glory, Hall of Famer Laffit Pincay, Jr., wasn't able to make it to the big party last year, but paid a visit in August and confirmed again what he's always said: that Chinook Pass is "the fastest horse I ever rode and the fastest horse I ever saw."
One of Chinook's biggest fans is Santa Anita Park president Ron Charles, who ranks him among his five all-time favorite horses.
"Chinook Pass is, by far, the fastest sprinter I have ever seen," he wrote in a birthday message, "(and) on our 75th Anniversary, it is still my belief that he was the fastest sprinter ever to race at Santa Anita."
Foaled at Rainier Stables near Enumclaw, Washington on April 28, 1979, Chinook Pass was sired by Native Born, a Vanderbilt-bred son of Sagamore Farm champions Native Dancer and Next Move. His dam was the speedy *Turn-To mare, U Turn. He is a light-nosed brown bay gelding, unmarked except for the tiniest of stars on his forehead.
Finishing with a mark of 16-4-1 in 25 races, Chinook Pass set or equaled numerous records during his career and still holds the North American five-furlong dirt record of :55 1/5.
Jody Davidson, who was aboard Chinook that fall day in 1982 at the old Longacres oval in Renton, Washington, can still remember seeing the fractions on the board as he turned for home and realizing that the world record was within reach.
"I hit him three times," Davidson recalls. "We broke the record, and when we got to the winner's circle the trainer fired me."
A few months later Chinook was matched up with Pincay. The two seemed made for each other. In his first and only turf appearance, he equaled the North American five-furlong record at Hollywood Park. Later that month in Santa Anita's Palos Verdes Handicap he rocketed through the first five furlongs in a remarkable :54 4/5 before galloping to the wire in a track record-tying 1:07 3/5 with Pincay standing in the irons.
Chinook Pass could easily have broken more records, Pincay believes, but he always eased him once the race was won. "I never cared about records," he says. "I always tried to save the horse for the next race."
The duo would go on to win seven of eight stakes together, including an eight-length romp in the Bing Crosby and a triumphant six-length homecoming victory in the Northwest's crown jewel, the Longacres Mile.
From there, he was to ship to New York to clinch the Eclipse Award by taking on the East Coast's star sprinters, but those plans were scratched due to a cracked splint bone and worsening tendon problems. With offers of million-dollar match races on the table and the first-ever Breeders' Cup world championships on the horizon, Chinook Pass was retired.
Jill Hallin was running the aqua-tread at a local training and rehab facility when Chinook was brought in a few years later in one of several vain attempts to get him back to the track. After she found out who her famous patient was, Hallin conspired with a friendly vet to get a picture of herself sitting atop "the fastest horse in the world." She still has that picture.

Thus began their long friendship, and after a few years of riding Chinook at Rainier Stables her dream came true when owner Dewaine Moore let her take the champion sprinter home. That was more then 20 years ago, and the two have been inseparable ever since. Throughout Chinook's long and happy retirement, there's never been a day that Hallin hasn't been thankful for the remarkable gift of living with this gracious and historic racehorse.
Chinook Pass became a great ambassador for Thoroughbred racing, and his frequent public appearances over the years gave thousands of fans the chance to meet him close up. People often lifted babies up to pat his forehead so they could tell them when they grew up that they once touched the great Chinook Pass.
An intelligent horse, he's always been calm and confident in public – even donning the famed Howard silks with a jockey aboard for a stroll down the center aisle of a movie theater at the Seattle premiere of "Seabiscuit."
And he learned to dance: Hallin and Chinook rode dressage together until he was 28. He has a pet goat named Ellie, and will not sleep without her. He has outlived two other companion goats. In 2000, Chinook Pass was voted Washington Horse of the Century.
According to Allan Carter, historian for the National Museum of Racing and Hall of Fame in Saratoga Springs, New York, the next oldest Eclipse Award winner is Flatterer. The great steeplechaser was foaled 35 days after Chinook Pass and resides at My Way Farm in Unionville, PA.
NOTE: John Loftus is a contributing writer to Washington Thoroughbred magazine and the biographer of Chinook Pass. All quotes are derived from taped interviews or e-mails from those quoted. Chinook Pass's claim to be the oldest living Eclipse Award winner has been made in previous articles that have circulated widely, and thus far the only other claimant to be mentioned has been Flatterer. If anyone knows of an older living Eclipse Award winner, we would welcome that information. Please write to: chinook.pass@earthlink.net.