Speed personified
by Tim Hopp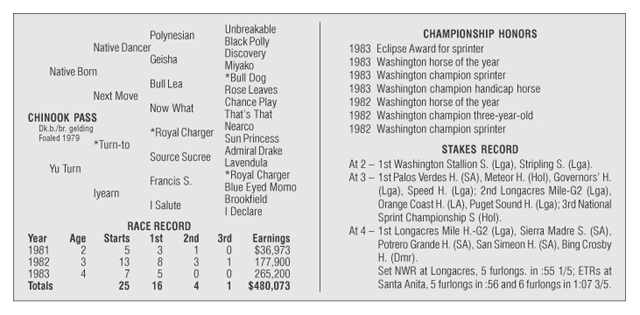 fter posting a scorching time of 1:14 3/5 aboard Chinook Pass in the 6 1/2 furlong Potrero Grande Handicap at Santa Anita, a mesmerized Lafitt Pincay, Jr. declared, "This horse is fast, but he does it easy . . . he's just unreal."
Chinook Pass hit the board in 21 of 25 career starts, and was thought by many as one of the fastest Thoroughbreds in racing history. He was not only a threat to break track marks each and every time he uncorked his tremendous speed, but was always a potential threat to shatter world sprint records. His blistering five furlong record-setting victory of :55.20 in the Longacres Owners Handicap in September of 1982, still stands today, despite thousands of races run in the country since. He was so fast that his trainer Laurie Anderson once remarked, "He [made] the hair stand up on my neck." In fact, fans watching a Chinook Pass race were probably more apt to watch the teletimer in eager anticipation of a possible record setting performance, rather than the race.
He has been inundated with words of praise, nation-wide recognition, and everlasting fame throughout his scintillating career. He was showered with so much hardware that owner Ed Purvis probably had a hard time building a trophy case big enough to hold everything. It would even be an encyclopedic task to compile the seemingly interminable array of titles Chinook Pass garnered in his lifetime. Not only was Chinook Pass the first and only Washington-bred equine Eclipse Award winner, but he was also the first horse ever to win the coveted award on the west coast.
His illustrious career could have been even better had not the injury incubus so rudely intervened. Regardless, this Washington-bred horse of the century had an historic three-year career that made the Washington racing industry and its fans proud. And, the Chinook Pass story is like a fine wine, as it continues to improve with age.
The Rise of a Champion
Chinook Pass was born under the banner of Hi Yu Stables owned by retired beat police officer and restaurant owner Ed Purvis. Purvis bred his broodmare, Yu Turn, to Native Born for the second time in as many years in 1978. The *Turn-to mare gave birth to Chinook Pass at Dewaine Moore's Rainier Stables in Enumclaw on the 28th of April, 1979. Moore remem-bers how unimpressive the dark bay colt seemed from the onset. "He was sorta lackadaisical, always the last colt in a bunch coming in from the field, he was the dog of the group." This was made more apparent when Chinook Pass was with pas-turemate Belle of Rainier, who seemed to be a promising individual. In comparison, Chinook Pass looked as mun-dane as a bale of hay next to the grandeur of Belle of Rainier, who not only looked the part of a champion, but later played it as well. But when Chinook Pass was gelded at about two years of age, according to Moore, "He changed entirely. He was like a bull in the woods, and no one could get ahead of him! He ran with all heart" and had a "disposition [that] was out of this world."
Even Purvis knew he had something special after Chinook Pass unleashed his speed at Woods Creek Training Center. "He worked a quarter, which I saw, and then another quarter that I didn't see. Then I saw him work in under :37, and that's when I knew I had something." After that three month stint, Purvis brought Chinook Pass to Longacres for training under the tutelage of two-year-old connoisseur Bud Klokstad. "Bud," Purvis quipped upon entering the Klokstad camp, "this might not be the fastest two-year-old on the grounds, but I guaran- tee you he's the fastest two-year-old in your barn." Klokstad remained skeptical upon seeing the high-strung two-year-old for the first time. He recalled that Chinook Pass seemed to be "a nice horse," but did not look like "[anything] special" at the time. After an outstanding work, however, Klokstad became an immediate convert. "You stand there in the morning with a watch and this horse will frighten you," Klokstad once remarked.
The Chinook Pass saga began in June 1981 with a bump in the road, as he was disqualified after an easy win in a maiden special weight race, at first asking. But he was able to shake off that disqualification, as well as minor leg ailments and various starting gate maladies to finish an otherwise promising season with three wins in five starts. An easy victory in his second start propelled him into local stakes company. In an outward demonstration of pure speed and raw power, Chinook Pass knocked a second off the track record in his wire-to-wire victory in the 5 1/2 furlong Washington Stallion Stakes. Two weeks later, he posted another scintillating victory, this time in the six furlong Stripling Stakes. Then the Klokstad camp aimed their splendid sprinter for the mile-long two-year-old champion- ship, the Gottstein Futurity. As the race favorite, he was a profound disappointment that day. Not only did he break from the gate abysmally, but he overexerted himself by trying to catch up. Despite setting most of the fractions against the throng of competitors, Chinook Pass lost steam while in the stretch, managing to finish 11th out of a field of 14. To make matters even worse, it was discovered he had injured a cannon bone in the effort.
After a seven month layoff, the maestro of speed spearheaded his 1982 sophomore campaign by winning a skein of allowance races at Portland Meadows and Longacres. In the latter victory, he used his tremendous speed to tie the track record of 1:02 4/5 for 5 1/2 furlongs. His winning streak was interrupted, however, as he again failed to win at a mile, this time in the Seattle Slew Handicap. Apparently, the precocious runner proved that he was too high on speed and too short on endurance. Three weeks later, Chinook Pass made up for that terrible effort by capturing both the Speed and Governor's Handicaps. He executed his trademark move by going wire-to-wire to defeat his elder competitors in both races. His win in the Speed Handicap prompted Gary Baze, his jockey, to comment "Once we got the lead, he was just coasting." Even more impressive, Chinook Pass became the first three-year-old to win the Governor's Handicap since Travel Orb accomplished the feat in 1965. These back-to-back stakes victories immediately vaulted Chinook Pass into contention for the prestigious Longacres Mile-G2.
The Longacres Mile
Few people gave Chinook Pass a chance to win the Mile, given his wretched performances in the eight furlong Gottstein Futurity and Seattle Slew Handicap. Even Klokstad was doubtful, lamenting, "We might be shooting for the moon." It was an anomaly to see a pure sprinter venture into a mile race, especially against seasoned veterans like Pompeii Court; a winner of three-out-of four starts and the reigning Santa Anita record holder at a mile. Other prominent horses in the field of 11 included Hallowed Envoy, a 12-time stakes winner; Tilt the Balance, a Longacres Mile veteran running on fresh legs; Police Inspector, a Canadian-bred stakes winner of $286,000; and Pencil Point (Ire), an Irish-bred sprinter who had been so impressive in winning the Bing Crosby Handicap at Del Mar, that his owners had supplemented him to the field. For Chinook Pass, the Mile would prove to be a turning point in his distinguished career.
Chinook Pass was loaded in the five spot. All of a sudden the gates flung open under the clang of the bell and roar of the crowd. The race was underway. He took the lead like he was launched from a mighty catapult. With scorching speed, the talented gelding set the early fractions. The stretch neared and it was apparent Chinook Pass was not going to fade where many thought he would. Pompeii Court, a length behind, laid in wait like a coiled viper ready to strike. A duel was brewing. Soon Pompeii Court caught Chinook Pass in the stretch. Back-and-forth they went, as the finish line quickly loomed ahead. Both grudgingly refused to yield to one another. The crowd of 19,467 on hand stood and cheered as the horses fast approached. Pompeii Court suddenly took a short lead. Then it was Chinook Pass by a neck. But then without warning, Pompeii Court put it into high gear and pulled away. Chinook Pass hung on with all the heart and strength his body could muster, but it was all in vain. Pompeii Court would be the one basking in the glory that day while an exhausted Chinook Pass, lathered in sweat from a hard day's work, could only take solace in a courageous second place effort. Once again, the distance proved too much for him. But his second place effort was not fruitless, for his performance garnered tremendous new-found respect among many. "He ran a game race," his jockey Jody Davidson said in awe. "As game as any horse I've ever been on . . . I'd be crazy to ever get off this horse." Chinook Pass not only proved his mettle, but showed everyone that he had a heart made of gold.
His dauntless Mile endeavor earned him a well-deserved four week rest. His next effort, however, would prove to be a landmark in Thoroughbred racing. Chinook Pass not only annihilated the Longacres' track record of five furlongs in the Owners Handicap, but demolished the world record with a sizzling time of :55.20. He left everything in his wake – including the sound barrier. It was as if he were seemingly propelled around the track by a pair of rocket boosters strapped to his hindquarters. He was in front by more than 20 lengths when he crossed the 3/16 pole. He was so far ahead of the field that the racing cameras could not pan wide enough to capture everyone on one screen.
Chinook Pass ended the Longacres meet with a second place finish in the 8 1/2 furlong Puget Sound Handicap. Then Purvis and com-pany set out to invade southern California.
The Southern Offensive
The gelding escaped the provincial scene with a tour of duty to the likes of Los Alamitos, Hollywood Park, Santa Anita, Turf Paradise and Del Mar. His campaign first began with a loss at the Los Alamitos oval in the Orange Coast Handicap on October 25. He was again bested by arch rival Pompeii Court in the six furlong romp, losing a valiant effort by a head. Then the precocious runner traveled to Hollywood Park in search of better fortune. Unfortunately, the six furlong National Sprint Championship yielded similar results for Chinook Pass. A bad break and a wide turn caused him to finish third behind Unpredictable.
It was then time for Chinook Pass to make headway on the national scene. He once again displayed his God-given talent in the aptly named Meteor Handicap with a wire-to-wire victory that equaled the American turf record of :56 for five furlongs. "His natural speed is extraordinary and I believe that he's the fastest sprinter in America," Klokstad now proclaimed to the national audience. People were beginning to believe in the splendid sprinter. But the Chinook Pass train was just getting started. At Santa Anita, he unleashed his uncanny speed to win the six furlong Palos Verdes Handicap on December 26 by 3 1/2 lengths in trademark fashion. He startled observers with his speed and tenacity over some of California's quickest horses. Even National Racing Hall of Fame jockey Pincay was stupefied, remarking "I've never seen a horse that quick for the first quarter of a mile . . . He's the fastest horse on the backstretch I've ever been on." This is no small statement, as Pincay has ridden the likes of Ancient Title, Rising Market, Maheras, Raise a Man, Stained Glass and Wiley Float; the Santa Anita record holder for 4 1/2 furlongs. Those victories, at two of the greatest tracks in the world, made the wire-to-wire guru a prime candidate for the next year's prestigious Eclipse Award.
Chinook Pass embarked on his four-year-old season a week later with a sixth place finish in the Malibu Stakes-G2 at Santa Anita. Once again, the gate malady bug reared its ugly head. There was also a shake-up in the ranks as Klokstad elected to return to the northwest so he could train a larger contin-gent of horses. Purvis hired Laurie Anderson to fill the void. A change in trainer and barn did little to impede Chinook Pass' progress. In an unbelievable display of talent, the new sultan of speed vanquished four out of five of the best stakes races the southwestern United States had to offer. The Chinook Pass express was now at full throttle and could not be stopped. Stakes race after stakes race fell before the might of Chinook Pass, like houses of cards upon a gale. Down went the 6 1/2 furlong Sierra Madre Stakes by a neck. Down went the 6 1/2 furlong Potrero Grande Handicap by 3 1/2 lengths in the slop; just a few ticks shy of the track record. Down went the 6 1/2 furlong San Simeon Handicap by four lengths. And down went the Bing Crosby Handicap by eight lengths at Del Mar. The fastest Thoroughbreds that California had to offer proved to be no match for such an indomitable machine. The Longacres Mile loomed in the distance.
The Return of the King
Washington's favorite son arrived at Longacres for a grand homecoming. Fans were excited to watch their homegrown champion race once more. This time, however, there was a lot at stake. He needed to win a graded stake race to ensure an Eclipse Award. But again, there were a bevy of skeptics on hand to question his ability to go the distance. Even Pincay wondered, "When I came up here I wasn't sure I had a sure thing." Others joined the chorus of doubters. "Can Chinook get the mile under 125 pounds?" Joe Withee reminisced, stroking his beard in seemingly deep thought. There was once again tremendous talent in the Mile field of 14, like Travelling Victor; Canada's 1983 horse of the year. Other distinguished invaders included Earthquack, a winner of four straight at Del Mar; Wander Kind, a Canadian multiple stakes winner; and Pewter Gray, a graded stakes winner that had been shipped north by Eclipse Award-winning trainer Ron McAnally. A total of 23,157 fans, the second largest attendance ever at the Renton oval, were on hand to watch Chinook Pass attempt to make history. Vengeance would not be in vain this time.
Chinook Pass was the last horse loaded in the gate that sunny afternoon, despite being in the sixth hole. Suddenly the bell rang, and in an instant Chinook Pass exploded out of the gate as if blasted from a cannon. His legs churned like pistons in an engine and his hooves dug deeply into the thick black dirt. Using his quickness, he cut through the mass of horses and riders like a sharp blade. He took a commanding lead with ease. An elated Anderson turned around and "shook Mr. Purvis' hand at the quarter pole." Chinook Pass was in a league of his own that day, as the race was over before it had ever really begun. Once again he posted scintillating fractions en route to a six length win, the biggest margin in Longacres Mile history. He had answered his doubters in a tone as loud as the deafening roar of the fans and then some. Anderson remarked in jubilation, "I said that if they go with him it's going to break their hearts, and if they don't, they'll never catch him." And they never did. Chinook Pass surpassed Trooper Seven's standard of $371,435 by more than $100,000 to claim the title of Washington's all time richest Thoroughbred. "Now I think there really is no faster horse in the land," Pincay aptly exclaimed. The Daily Racing Form and the Thoroughbred Racing Association were convinced too. They subsequently voted Chinook Pass the 1983 Eclipse Award for best sprinter of the year, resulting in a major coup for the Washington Thoroughbred industry. The Mile, however, would prove to be his last hoorah.
Unfortunately for Chinook Pass, life was not without its array of vicissitudes. It was discovered he had suffered a cracked splint bone in his right front foreleg during the running of the Mile. This cancelled plans for an east coast invasion indefinitely. Then a potential Quarter Horse match race had to be scrapped when Chinook Pass bowed a tendon, again in his right foreleg, during a rehab gallop in mid-December. After an extended rest, he was sent to Donida Farm Training Center in Auburn to train for a chance to return to the racing wars. But when he could not hold up under the rigors of training, he was retired permanently. Thus ended the career of Washington's greatest Thoroughbred. Or did it?
The Great Ambassador
Chinook Pass now enjoys a great second life, thanks to the efforts of Jill Hallin. Hallin first met the horse when she was assigned to aquatread him at Donida. She chuckled at the thought of seeing him for the first time. "I thought this was such a famous horse," she recalled, that "I wanted a picture taken [of me] on him bareback." She diligently worked with him until that day arrived. At first the imposing animal was antsy when she climbed atop of him, but then he quickly settled down. She then had her picture taken while seated on "the fastest horse in the world." Hallin enjoyed this moment so much that she decided to ride him throughout his rehabilitation process. A lasting bond had been formed. Chinook Pass returned to Rainier Stables when it was apparent he could not race again. This move, however, did little to dampen their new-found relationship. There Hallin routinely walked to the farthest field on the farm just to see Chinook Pass. Then in a great act of kindness, Moore permanently loaned the retired champion to her.
Chinook Pass is a very tolerant and accepting animal that loves to be at the center of attention. When saddled, he is raring to go. He is the only horse Hallin allows to take off walking before she jumps aboard. "He made $480,000," Hallin laughs. "So if he wants to walk, he can walk." Evidently, some inveterate habits die hard. Chinook Pass has had an impact on Hallin's life. Not only does she frequently identify herself as 'Jill with Chinook' to all the racing people she meets, but she has learned that former racehorses can indeed have very productive and prosperous careers after racing. As a result, Hallin keeps her charismatic equine quite busy. He has trail-blazed through the wilderness, become an accomplished dressage and show horse, and made a bevy of local public appearances.
The two have made these showings in an attempt to quench the public's insatiable desire to see the former champion. This has transformed Chinook Pass into an ambassador of racing. The pair attended the Seafair Parade in 1991 as part of the "Save Longacres" contingent. People were thrilled to see the legendary champion. Even Chinook Pass was excited; giddy as ever, he displayed a curiosity that would rival that of a newborn. In and out of formation they went, one moment mingling with the throngs of spectators that adorned the parade route, the other ambling about and inspecting the colorful parade floats and decor like a shrewd detective. Even the thundering din of the monorail overhead did little to impede their fun. They also made a surprise visit to a Boy Scout breakfast fundraiser at the Red Lion Hotel grand ballroom where Ron Crockett was speaking in 1996. The Boy Scouts were not only delighted to see him, but were excited to learn about his renowned racing exploits as well. Hallin and Chinook Pass were also at the 2001 City Proclamation at West Lake Plaza to help generate an interest in racing. Last year, they even appeared at a local movie theater attended by racing enthusiasts celebrating the release of Seabiscuit. The crowd had a blast, as did Chinook Pass, who enjoyed indulging in the extra attention. And within the last few months, the two visited Shoreline High School to cap a class reading marathon of Laura Hillenbrand's best-selling Seabiscuit.
Whether entertaining inquisitive children or educating fascinated adults, Hallin finds no shortage of joy in passing Chinook Pass knowledge and history onto others. Thanks to her efforts, the legacy of Washington's most famous Thoroughbred will continue to endure and abound.
Pincay once referred to Chinook Pass as "The fastest horse that [he] ever rode or saw." This brief statement speaks volumes of Chinook Pass' remarkable racing career. But he is more than just a famous racehorse, for he is also a great ambassador of the sport. And as a result, the Chinook Pass story has turned into a legend, a legend which will forever remain a part of Washington's racing identity.
---
Speed Begets Speed
Chinook Pass' heritage reads well upon close scrutiny. His sire Native Born had established himself at stud in Washington by siring a bevy of stakes winners, spearheaded by the exploits of Crafty Native, a two-time Washington horse of the year. The indomitable double chef-de-race Native Dancer, Chinook Pass' paternal grandsire, was not only a legend on the race track after winning 21 of 22 career starts, but was a marvel at stud; siring the likes of Kentucky Derby first place finishers Kauai King and Dancer's Image, as well as the proponent Raise a Native. Native Dancer was also the damsire of Northern Dancer.
Chinook Pass' maternal line also abounds with speed, despite the short racing careers of his first and second dams, Yu Turn and Iyearn. Yu Turn had a double cross (2 x 3) of *Royal Charger, a son of Nearco, who had first-class speed and was out of a half-sister to *Nasrullah, who traces to perhaps the fastest of all fillies, Mumtaz Mahal. Yu Turn displayed this great speed at Bay Meadows before a rash of injuries cut her career short. Her dam, Iyearn, had a meager race record as well, but produced six winners out of eight foals.
Chinook Pass' maternal grandsire *Turn-to, a racing champion, was very successful at stud as exhibited by the endeavors of his progeny: Best Turn, Cyane, First Landing, Hail to Reason and Sir Gaylord; all who turned out to be major sires.
But the number one speed gene in Chinook Pass' immediate family can clearly be traced to one source: I Salute.
I Salute flaunted uncanny speed to challenge track records throughout the country during her 11 win career. She equaled or set the track record for 5 1/2 furlongs at Atlantic City three different times, set a new track record at Pimlico going six furlongs, and then set a new track mark at Santa Anita in a 6 1/2 furlong romp. As a broodmare, I Salute produced I Recall, a filly that set a course record for eight furlongs at Woodbine. I Salute also produced Indoctrinate, a colt by Intent who showed exceptional speed by setting a course record at Laurel Park for a mile. I Salute was also grandam to Gimli, a filly with 10 wins, including a record setting six furlong performance at Belmont Park; and the grandam of Andrew Feeney, a colt with 26 wins including a victory in the Arizona Downs Sprint Championship. Hence, if there is one forebearer to whom Chinook Pass relates, it has to be the maternal great-grandam I Salute, a first-class sprinter with tremendous speed.
Click here for a complete list of all the Washington Hall of Fame inductees.