A horseman first and foremost
by Kimberly French

e was involved in at least three of Thoroughbred racing's more memorable moments, was the fourth jockey to win 3,000 races and conditioned the horse that beat the only undefeated Triple Crown victor, yet Johnny Adams, a member of the National and Washington Racing Halls of Fame, seemed comfortable allowing others to steal the spotlight.
The Iola Mite
Born in 1915 in Carlisle, Arkansas, Adams' family relocated to Iola, Kansas, while he was still very young. Nicknamed the "Iola Mite" because of his smaller than average stature (he was only 4'8''), the youngster began riding in 1934 at the county fair tracks where his father distributed feed, and where he captured his first of 3,270 career triumphs aboard Marble Girl at Riverside Park in Kansas City that same year.
"My mother didn't want me to turn jockey," he told the San Diego Union. "So, since it was necessary for her to sign papers as a minor age apprentice, I fibbed about my age. I think I said I was 20 or 22, so I could get going as a journeyman jockey."
In 1937, after riding for only three years and concentrating on many of the "bush" tracks (county fairs) in Kansas and Oklahoma, Adams led the nation with 260 victories. His competition included future National Hall of Famers Eddie Arcaro, Johnny Longden and Ted Atkinson. Another of his contemporaries was fellow Washington Racing Hall of Famer Basil James.
The following year, the 28-year-old Longden wrested the title of leading rider from Adams (who finished second,) but Longden, the only person to ever win the Kentucky Derby as a rider (Count Fleet, 1943) and trainer (Majestic Prince, 1969), definitely possessed several advantages.
"Johnny Longden has raced on the "Big Apple" (New York tracks), has matched his skill against the top-notch jockeys of the country at all the Eastern tracks, is the second highest money winner ($250,000) as well as the leading rider," wrote a correspondent for Time magazine on December 19, 1938. "Ever since 1935, when he made his Eastern debut by winning five out of six races on Bert Baroni's Top Row, Johnny Longden has been in great demand. A contract rider for the famed Wheatley Stable until two months ago, he is now under contract to Don Cameron, trainer for the stables of Mrs. John Hertz, Vera Bragg and J. Shirley Riley, at $17,000 a year – highest salary of any US jockey."
Unlike all of his top competitors, Adams did not have a contract or ride "first call" for any stable until the following year, when he was signed by Seattleite William E. Boeing of aircraft fame. The 24-year-old rode wherever and whenever he had the opportunity and normally did not guide the strongest of contenders.
"Many Californians will never forget the thrill they experienced when jockey Adams rode six winners in a row (five of them longshots) at Bay Meadows one afternoon last spring – a feat that only seven US jockeys have ever accomplished," said Time magazine. "Others who had seen him break a leg during a race at Del Mar last summer, marveled at his ability to be out in front again after being dismounted for two months.
Johnny Adams has an extraordinary flair for getting the best out of the cheapest plater." Adams was never known for the elegance of his seat or the dexterity of his hands. In fact, he rode with a very long rein, probably because he was so short, but his arm and shoulder strength allowed him to ably control his mounts.
While the article in Time acknowledged Adams' ability, it was hardly complimentary about his appearance or even his abode: "A barrel-chested pee-wee who learned to ride on the Western 'bush' tracks, still lives in a trailer and looks as clumsy as Ichabod Crane on a horse."
Controversial Calls
That same year (1938), Adams' performance aboard Count Atlas in the Santa Anita Handicap – which was the country's richest race ($100,000) – drew considerable ire from the media and racing fans, as he was considered partly to blame for Seabiscuit's nose loss to Stagehand.
"As Seabiscuit broke from the gate, he was immediately bashed inward by Count Atlas, a hopeless longshot," wrote Laura Hillenbrand in her 2001 epic Seabiscuit: An American Legend. "As he staggered sideways, Count Atlas sped up in front of him, then abruptly cut left and slowed down, pushing back into him again."
Seabiscuit's jockey, George Woolf, however, did manage to extricate his horse from trouble and managed to secure a suspension for his actions.
"Swinging his whip high in the air, Woolf walloped it down as hard as he could on the buttocks of Count Atlas's jockey, Johnny Adams, then lifted it up and smacked it down again," Hillenbrand said. "Down on the rail, obscured by the pack, he could not be seen by the stewards or the crowd. But Adams, who would ride back to the scales sporting angry welts, certainly felt it. He jerked Count Atlas's head to the right. Seabiscuit broke free . . . and delivered what many of them (in the press box and crowd) thought was the greatest performance in racing history, and (Seabiscuit) had lost simply because of a fluke in the weight system (he carried 30 pounds more than Stagehand) and a foul from another horse."
Charles Howard, Seabiscuit's owner, agreed with the masses and felt Adams' behavior was one of the main reasons his prized horse did not win the race, but after Seabiscuit was sidelined with a ruptured suspensory ligament in 1939, Adams guided *Kayak II, another Howard horse, to victory in that year's edition of the Big 'Cap.
Adams also received his big Derby mount in 1939 when Boeing named him to ride the 1938 Belmont Futurity and Champagne Stakes winner Porter's Mite in that year's Kentucky Derby. The flashy chestnut, however, was withdrawn several days before the race.
Fortunately, Herbert Woolf, the owner of Technician, offered Adams the ride against the advice of his trainer, six-time Kentucky Derby winner Ben A. Jones.
"Woolf, they say, brought in Adams over the strong protests of Ben Jones," wrote the Jefferson City Post Tribune on May 5, 1939. "Jones finally told him: 'All right, you own the horse and you're shooting at the $50,000.' In the opinion of most of the experts here, however, Woolf's move was a smart one."
Technician "did not settle into good stride until reaching the backstretch where he showed a brief flash of speed, but was soon out of contention," and finished fifth behind the post-time favorite, Johnstown.
Throughout his career, Adams reined 13 horses in the "Run for the Roses." He never won the classic, but did finish second with Blue Swords in 1943 and Hasty Road in 1954.
Nearly seven decades later, many racing fans still argue over who was the best horse in the 1940 Santa Anita Handicap. Seabiscuit, who had returned from his injury, beat his stablemate *Kayak II by a length and a half, but there has been some controversy over the result, as *Kayak II was never touched by the whip and his rider was Leon "Buddy" Haas, instead of Johnny Adams.
Johnny Bucalo, Adams' nephew, told Bill Christine of the Los Angeles Times in 2003, that his uncle was offered the mount, but rejected it because Howard intimated that *Kayak II could not win the race if it inhibited a victory by the favored Seabiscuit and Adams always rode to win.
Haas' sister also claimed Haas was told to allow Seabiscuit to win.
Adams, who called *Kayak II one of the best horses he ever rode, was in the irons when the 1939 champion handicap horse captured the 1940 Sunset Handicap later that year. He had a record of 7-4-1-0 aboard the Argentine-bred. He later won the 1946 Big 'Cap with Dark Knight.
Better Days
Throughout the 1930s and early 1940s Adams regularly rode at Longacres. He won both the Spokane Handicap (Bartlett) and Speed Handicap (Alviso) in 1936, but never captured the track's signature race, the Longacres Mile. He finished fifth in 1936 with Chief Pilot, fourth in 1937 with Blue Bud and 13th in 1942 with Campus Fusser.
The "chunky" jockey, once again led all riders in total victories with 245 wins in 1942 (including winning with six of his eight mounts at Thistledown on September 2, and scoring five wins in eight rides at Detroit 20 days later) and the next year with 228, without ever really riding a "big name" horse. Adams best day in the saddle in 1943 came at Detroit, when on May 29, he rode five winners from six mounts. He was the first rider in history to head the jockey list three times.
Adams collected his only classic victory in the 1954 Preakness with 1953 two-year-old male co-champion Hasty Road. Trained by Harry Trotsek and owned by Hasty House Farm, the colt led from gate-to-wire and just outlasted the favorite Correlation by a neck. Hasty Road had finished second in the Derby behind Determine and did not compete in the Belmont.
On May 21, 1955, when Mister Black, piloted by Johnny Adams, annexed the Continental Handicap at Balmoral Park, it marked Adams' 3,000th win.
Ironically, he was honored as the 1956 recipient of the George Woolf Award, which rewards sportsmanship and professionalism.
When Adams' riding career ended in June of 1958 because of a back injury, he had spent 24 years in the saddle and had a record of 3,270 firsts, 2,704 seconds and 2,635 thirds from 20,159 mounts and had earned $9,743,109 in purse money. He was inducted into the National Thoroughbred Racing Hall of Fame in 1965.
His résumé included victories in: San Pasqual and San Carlos Handicaps, San Felipe Stakes, American Derby, Arlington-Washington Futurity, San Juan Capistrano Handicap, Kentucky Oaks (twice), Coaching Club American Oaks (twice,) Ben Ali (three times) and Phoenix Stakes (three times), Clark Handicap, Arlington-Washington Lassie Stakes, Jamaica Handicap, Hopeful Stakes, Hollywood Gold Cup, Santa Anita Oaks, Breeders Futurity, Black-Eyed Susan Stakes and the Arlington Handicap.
Adams, who was based in California, transitioned into training horses upon his retirement and his son, John R. Adams, or "J.R." as he was listed in racing programs, rode his father's first winner as a conditioner and enjoyed moderate success as a jockey, before solely exercising horses.
J.R.'s son, John K. Adams, also became a jockey in his youth and rode at Calder, the California fairs, Belmont and Aqueduct, before he became a trainer based in Maryland.
The youngest Adams admits his riding style did not resemble his famous grandfather's.
"No way sir," the then 19-year-old told the New York Racing Association's publicity office in 1974. "From what I've heard tell about him and from the pictures I've seen. They tell me they used to call him 'Washboard Adams' from the way he scrubbed on his mounts. But I'm proud to be his grandson. Would I like to beat his 3,000-win record? Well, frankly, I'd rather beat Sandy Hawley's (then) record of 515 wins."
As a trainer, the eldest Adams did enjoy success and conditioned Niarkos, Prize Spot, Relaunch, New Policy, Meilleur, Hill Circus, Jumping Hill and Big Raff. He won the San Miguel and San Marcos Stakes, Santa Monica, San Pasqual, San Luis Rey, San Juan Capistrano (twice), San Simeon, Beverly Hills and Del Mar Handicaps.
The Spoiler
His most notable achievement as a trainer, however, was with George Pope Jr.'s J.O. Tobin.
The son of Never Bend, who was England's 1976 two-year-old champion male, had lost once in four starts during his European campaign and that was to Blushing Groom (Fr) in France's Grand Criterium (G1) after many people thought jockey Lester Piggott had allowed the colt to fall too far behind the winner.
After J.O. Tobin's trainer, Sir Noel Murless, retired, Pope transported the colt to the States with an eye on the classics, even though his colt had not raced on dirt.
J.O. Tobin, now under the tutelage of Adams, ran in the Preakness Stakes (G1) and finished a disappointing fifth behind Seattle Slew, but his trainer didn't believe that race was a true measure of his ability.
"He had all kinds of excuses," Adams told The Blood-Horse. "It was not a true race for him. Mr. Pope and I talked it over and decided the Belmont would be too much for J.O. Tobin at that time. We felt it might knock him out for the rest of the year. So, we came back to California to point for the Swaps."
Hall of Famer Bill Shoemaker, J.O. Tobin's jockey, concurred with Adams. "We got stopped every which way that day," he said. "He didn't break well, and then when he took off, he ran up on other horses. Then on the far turn, he ran into trouble again, and we had trouble getting clear going into the stretch. He still finished fifth, got beat by less than five lengths and had 10 lengths' worth of trouble."
J.O. Tobin prepared for Swaps, which was contested on July 3, 1977, at Hollywood Park, by running in an allowance race and the Coronado Stakes. Both races were on the grass, and the colt established a new track record for nine furlongs in the allowance contest, which was a week before the Swaps.
Meanwhile "Slew," owned by White Swan, Washington, residents Mickey and Karen Taylor and Jim and Sally Hill of Florida, ran his record to a perfect nine-for-nine and became Thoroughbred racing's 10th Triple Crown winner when he cruised home in the Belmont Stakes (G1) on June 11.
Adams was not concerned when Slew's connections announced the Swaps was the next start on their agenda. "When we heard that Seattle Slew was coming out, our reaction was: 'Well, we'll meet him on our grounds,'" he said to The Blood-Horse.
Shoemaker had a tremendous amount of faith in J.O. Tobin and thought the colt was sitting on a fabulous performance.
"I was telling people that he was good enough to win," he said, "but I don't think anybody believed me. Even then they thought I was old and senile. But I was confident against Seattle Slew."
Sent off at one-to-five, the champion did not resemble his usual self and struggled home fourth, nearly 16 lengths behind the victorious J.O. Tobin.
Unlike the Preakness, J.O. Tobin broke beautifully, went straight to the lead and never looked backed. He won by eight dominating lengths and ran the mile and a quarter in 1:57 3/5, which was 2/5ths of a second off the world record for the distance.
After the race, which noted author Steve Davidowitz ranks as the fourth most astonishing upset in Thoroughbred history, everyone couldn't stop talking about how Slew had not run his race, instead of how strongly J.O. Tobin had just performed.
"Johnny did a hell of a job with that horse," Shoemaker said. "He worked and worked with him in the mornings and got him to relax. Later, the horse was turned over to Laz Barrera (after a fifth place finish in that year's Woodward Stakes [G1] in New York) and became a speed-crazy horse. He didn't do much after that."
"I guess it's the biggest pot ($194,000) I've ever won," commented Adams after his charge handed Seattle Slew his first loss.
Johnny Adams succumbed to the ravages of a long illness at his Arcadia, California, home on the morning of August 19, 1995, at age 79. He was survived by his wife Patricia and three grandchildren.
"He (Adams) always considered himself a horseman, first and foremost," wrote Jay Hovdey in The Blood-Horse.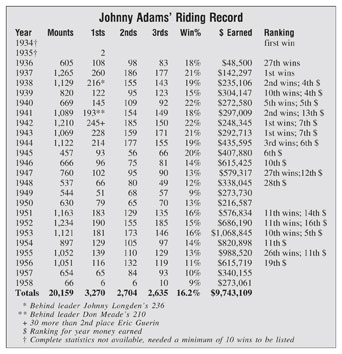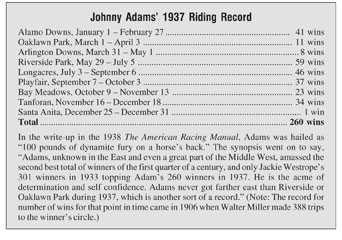 Pennsylvania resident Kimberly French is a freelance writer whose work has appeared in Thoroughbred, Standardbred and Quarter Horse publications. She also freelances as a production assistant for ESPN's horseracing broadcasts.
Click here for a complete list of all the Washington Hall of Fame inductees.