Bloodstock Agents
Part 2 –
Advice for first-time buyers on bargains
and buying agents
by Matt Massey

he promise is recognized well before a yearling Thoroughbred steps into the sales ring.
The homework is done. The hope runs deep. The selection process is in full swing.
For many West Coast owners, the Washington Thoroughbred Breeders Association (WTBA) Summer Yearling Sale is where those dreams begin. Recognized nationally for its reputation for turning out talent at bargain prices, the WTBA Summer Yearling Sale offers plenty of value for the dollar in many instances.
For every sales-topping buy, there's several significant victories for those spending smaller coin. Take for instance, Washington-bred Peterhof's Patea, an $11,500 WTBA summer sale yearling buy in 1989 who went on to earn a WTBA sale-best of $623,367.
The next Peterhof's Patea could be available at this year's WTBA Summer Yearling Sale, which will be held on September 4 at the Morris J. Alhadeff Sales Pavilion at Emerald Downs. This is where the opportunity to buy a star of the future will present itself.
"I think you get more bang for your buck from the Washington sale than any other yearling sale in the country," said Claudia Atwell Canouse, a Seattle bloodstock agent known for her success at all types of Thoroughbred sales. "The statistics will tell you that." she said. "All the horses that go through the summer sale, most of them earn almost twice what (owners) pay for them. I think you can get a lot of value at the Washington sales."
In a recent The Blood-Horse Market Watch study of major North American yearling sales from 2000 through 2004, Washington's summer yearling sale more than held its own statistically in many significant categories.
The WTBA summer sale ranked No. 1 in runners to the racetrack, with 87 percent of the buys getting to the races, and No. 2 in percentage of winners at 66 percent. Of the 26 sales studied, WTBA summer sales ranked fourth in stakes winners with 7.1 percent and sixth in stakes runners at 18 percent. The WTBA summer sale also ranked in a tie for second in average starts per runner (17).
WTBA's average sale price of $18,146 during the five-year period puts it 11th among the 26 sales. The average earnings of WTBA sellers during the five-year window was $28,557, to rank 15th.
The numbers also point to affordability and the ability for buyers, owners, trainers and agents to find a diamond in the rough.
Look no farther than great WTBA sale-bargain yearlings like Funboy, Fast Parade, Grillhouse, Jazznwithwindy and Avenging Passion.
Washington-bred Funboy ranks No. 5 among WTBA-sold earners with $478,180 after going for $3,200 in the 1992 WTBA Winter Mixed Sale as a yearling. Grillhouse, a New York-bred who is still racing in 2007, made good on his $8,500 purchase price in the 1998 WTBA summer sale to earn $618,022 to date and rate No. 2 all-time for WTBA-sold runners.
Fast Parade, another talented Washington-bred who sold for $4,500 in the 2004 WTBA Winter Sale, has piled up $475,013, set a Del Mar turf course record for five furlongs (54.75 seconds), won a graded stakes in Canada, traveled to Hong Kong and still owns a bright future at age four.
Modest purchases Jazznwithwindy, who went for $2,500 in the 1995 WTBA Winter Sale, and Avenging Passion, who went through the ring for $1,600 in the 1998 WTBA Winter Sale, both yielded whopping returns on investment. Jazznwithwindy earned $391,739 and Avenging Passion bankrolled $335,300 before their retirements.
Those rare gems, sold at bargain-basement prices, take some luck, in addition to some sales homework.
"You can find some great horses in that price range of $10,000 to $30,000 and lots of people have done it," Canouse said about the September venue. "To get into the summer sale, you basically ought to be worth $10,000. There's a lot of useful horses sold at the Washington sale, horses that get to the races and win races. Out of those horses sold here, they'll be an occasional superstar. But the main thing is you want everybody to get to the races."
Hiring the Right Buying Agent
Most of the time hard work can't be replaced by luck and it can all start with hiring the right buying agent.
Canouse is a good example. She gets a head start on the competition, in part, because of her strong reputation and connections to many breeding farms. She's done well buying broodmares, two-year-olds in training, yearlings and weanlings for many years in many locations and knows her way around a sale.
"I try to respect my clients. They all have things that matter to them," Canouse said. "I'm always trying to accommodate the client and get a horse that has the basic mechanics to become a good racehorse. You can give any of us a carload of money and we can all go buy a good horse. I'm a person who's trying to do the maximum job for each client. I want the horses to get to races and earn more than what was spent on them."
Canouse diligently looks at every horse before the sale, weighing the combination of pedigree, looks, behavior and conformation into the equation.
"I go to most of the major [Washington] farms about two weeks prior to the sale," Canouse said. "Those horses I'm not able to see on the farm, I go see at the sale."
Canouse looks for many things and listens to her clients, understanding that selecting a good buy at the sale is due to teamwork.
"A team can accomplish a lot more than an individual," Canouse added. "I have smart clients, ones who know what they want to do. As an agent, you are consistently trying to work as hard as you can and trying to ferret out the best horse. You want the best prospects at the best prices."
Canouse, the first international female bloodstock agent based in the Seattle area, has helped make some significant finds over the years at WTBA sales. For example, she advised on the purchases of Flying With Eagles and Son's Corona for owners Dave and Jill Heerensperger.
Kentucky-bred Flying With Eagles, now standing at stud at El Dorado Farms in Enumclaw, almost tripled his 1995 WTBA Summer sale-topping purchase price of $120,000 with earnings of $330,739.
"He was a beautifully balanced yearling and he had a lot of leg under him," Canouse said. "He had everything."
Washington-bred Son's Corona, a multiple stakes-placed winner, turned his $42,000 purchase at the '95 WTBA summer sale into $264,913 in earnings.
A more recent example of immediate payoff appears to be the purchase of now two-year-old Dana's Beau from the 2006 WTBA summer sale. The California-bred Dana's Beau, who was pinhooked at the sale by Canouse, broke her maiden in a $40,000 maiden claiming at Emerald Downs for trainer Frank Lucarelli and owners Ron Schmid and Bob Thompson on May 26 in a fast time of :51.40 seconds for 4 1/2 furlongs.
"She's eligible for the $300,000 Barrett's Sales Stakes at Fairplex Park because she's a Barretts-sold horse," said Canouse, who bought the filly, originally named Belle Selene, for $3,200 as a weanling at the Barrett's October Mixed Sale in Pomona, CA. "This was a good filly. I don't know why she didn't go for more. I feel strongly that we need to develop a WTBA sales stakes program like California. It would be an important addition to the sales program here."
Canouse hopes that Washington can benefit from a more lucrative stakes program in the future and lure more buyers to the state.
"We need all the incentives we can get for people to buy from the Washington sales," Canouse said. "It would be a nice reward for people who buy here to have a big race to run in here."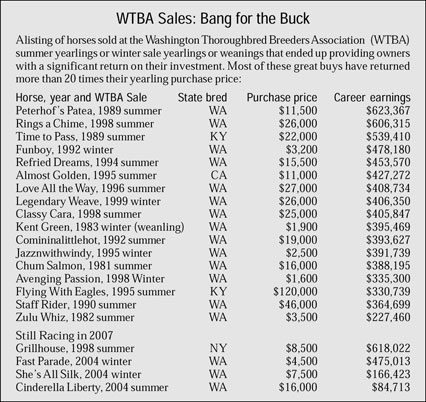 Matt Massey, a Maple Valley resident, has covered horse racing in the state of Washington for various publications since 1991, including the Thoroughbred Times, The Seattle Times and the former Valley Daily News in Kent. Massey was first introduced to the sport of horse racing when his father, Melvin, was the state veterinarian at Longacres in the late 1970s.
Published Washington Thoroughbred magazine, July 2007, page 484.